Miami or South Beach is a party town! People head to the beach and the mega clubs for spring break, birthday parties, and always Bachelorette or Bachelor parties. In the past two years, I've had the pleasure of visiting Miami 3 times for wedding and bachelorette festivities. The city has finally grown on me, and the art deco and gorgeous hotels are on my side. Here is a guide on How to Plan the Best Bachelorette Party in Miami and a few extra non- wild activities you must save some time for.
WHERE TO STAY:
The move here is to stay on the beach so you have access to a pool, lunch and beach chairs. My #1 pick is the luxurious 1 Hotel. It's definitely on the higher end, but you'll feel glamorous all weekend with: access to two pools, a rooftop bar, cabanas, a vegan restaurant, food/drink service on the beach, an outstanding gym, SOUL CYCLE, yoga on the beach, and a smoothie, food-to-go bar. Since we had a large group we booked two rooms in the 1 Hotel Homes +Residences which offers a private entrance on the other side of the street. We had 3 bedrooms, 3 bathrooms, a full kitchen to prepare meals and congregate, a balcony, and living room. P.S. Don't miss the Skinny Piña at the pool.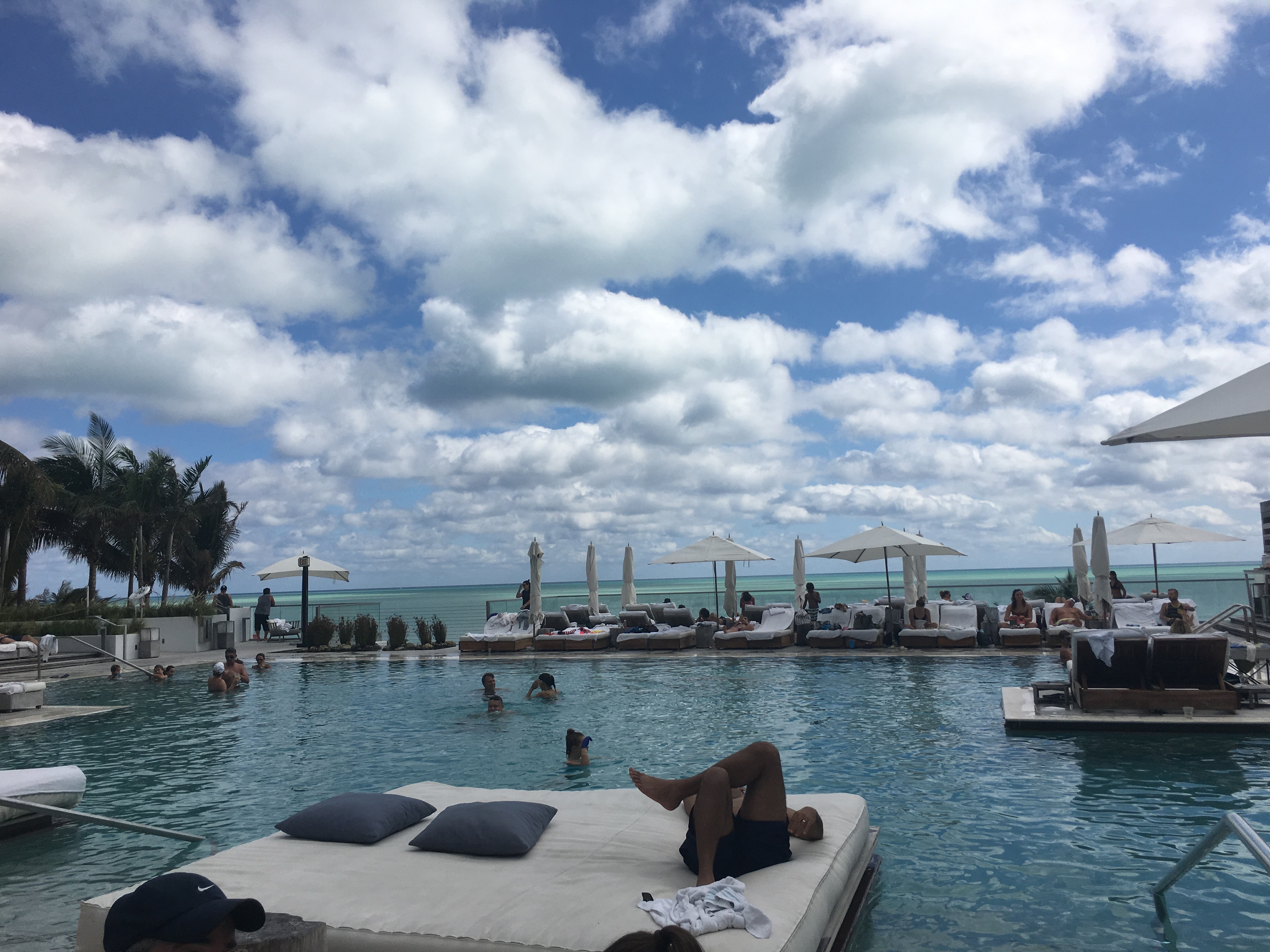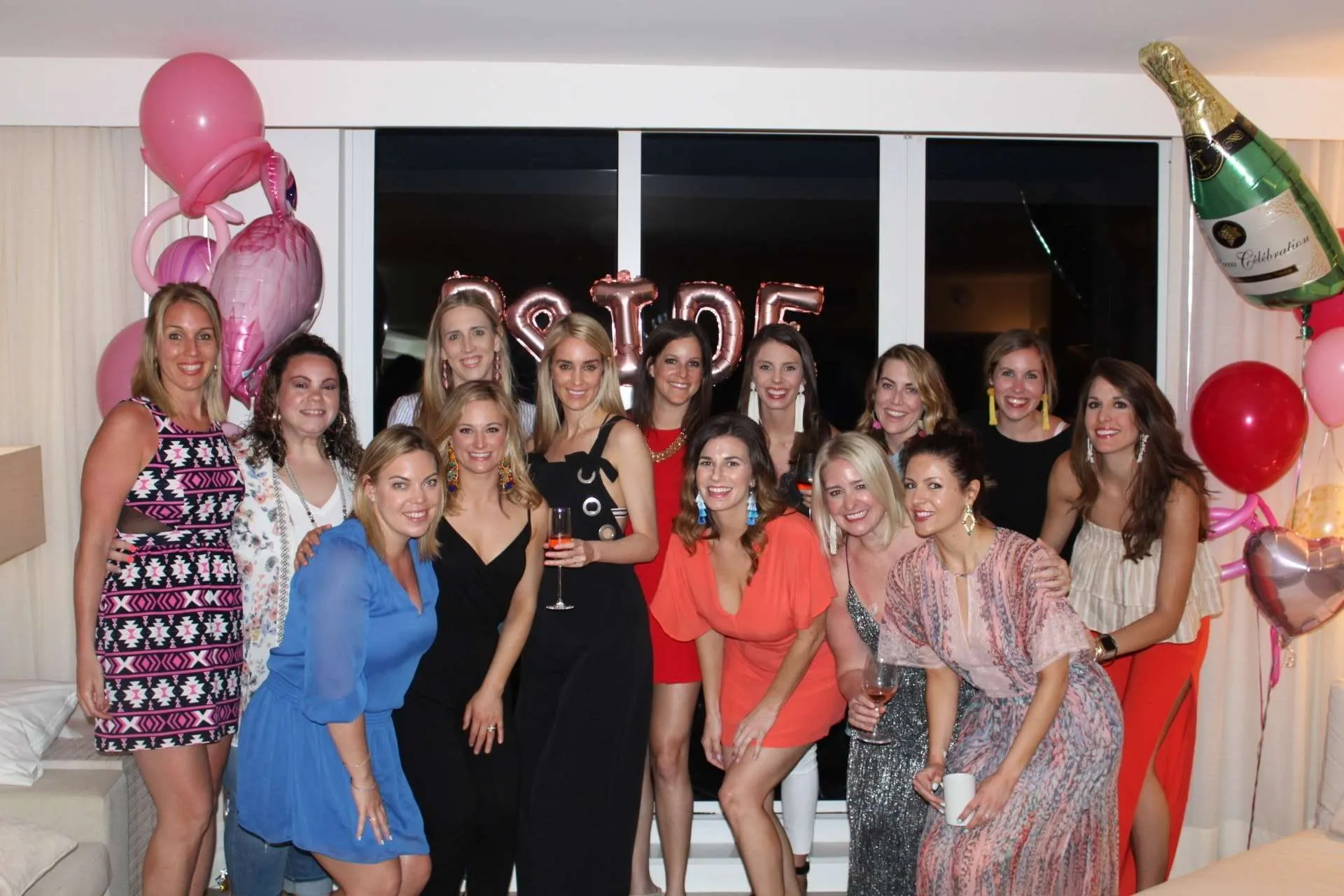 The Fontainebleau has suites that fit 4 girls to a room and isn't too pricy. The other upside is that LIV the nightclub that hosts DJ's and rappers nightly is in here and Scarpetta, an amazing Italian restaurant from NYC that has the best bread basket in the city is in there (I guess you're not looking for the best bread basket during your bach, but whatever.)
WHERE TO YACHT:
I didn't know how much I needed to be a yacht gal until I went on the Sunseeker "boat." I thought we were just going on a boat in the water, but no, this was a full on YACHT. Our captain happened to be from Texas (ha!), and the crew was very professional and sweet. We had about 13 girls that included a 4 hour ride, a jetski, full-on lunch of crudités with dips, fruit platter, pasta, chicken fingers, and BYOB. Also, really good lime chips for that dip. It was all in $400 per person included the cost of the bride. I don't usually spend this much on one activity, but we were on a yacht and it was a bachelorette party, so I'd say it was worth the splurge and lovely day! You can book through the company here.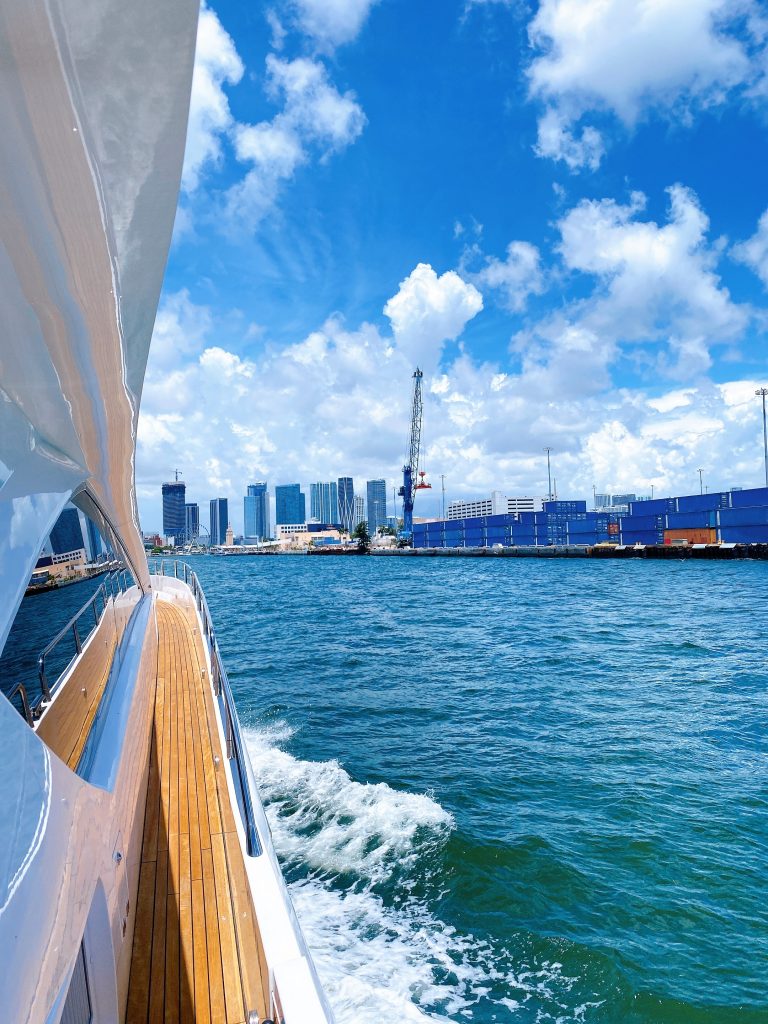 WHERE TO EAT:
LUNCH/BRUNCH
Since these weekend parties can put a dent in your wallet, I recommend letting everyone do their own thing for breakfast and brunch since drinks and dinner can add up. Go for a morning walk, jog, ride on the boardwalk or hit the beach early. My favorite lunch spot is a mile walk south of the hotel: La Sandwicherie. Stroll up, grab a stool at the window, and order a juice, and a giant croissant sandwich. I love the SOBE Club which is turkey, brie, avocado and their special dressing which is like honey mustard. Also, the Nutella stuffed croissant with tropical fruit was unreal. Carb up, ladies! p.s. They are open from 8 a.m. – 5 a.m.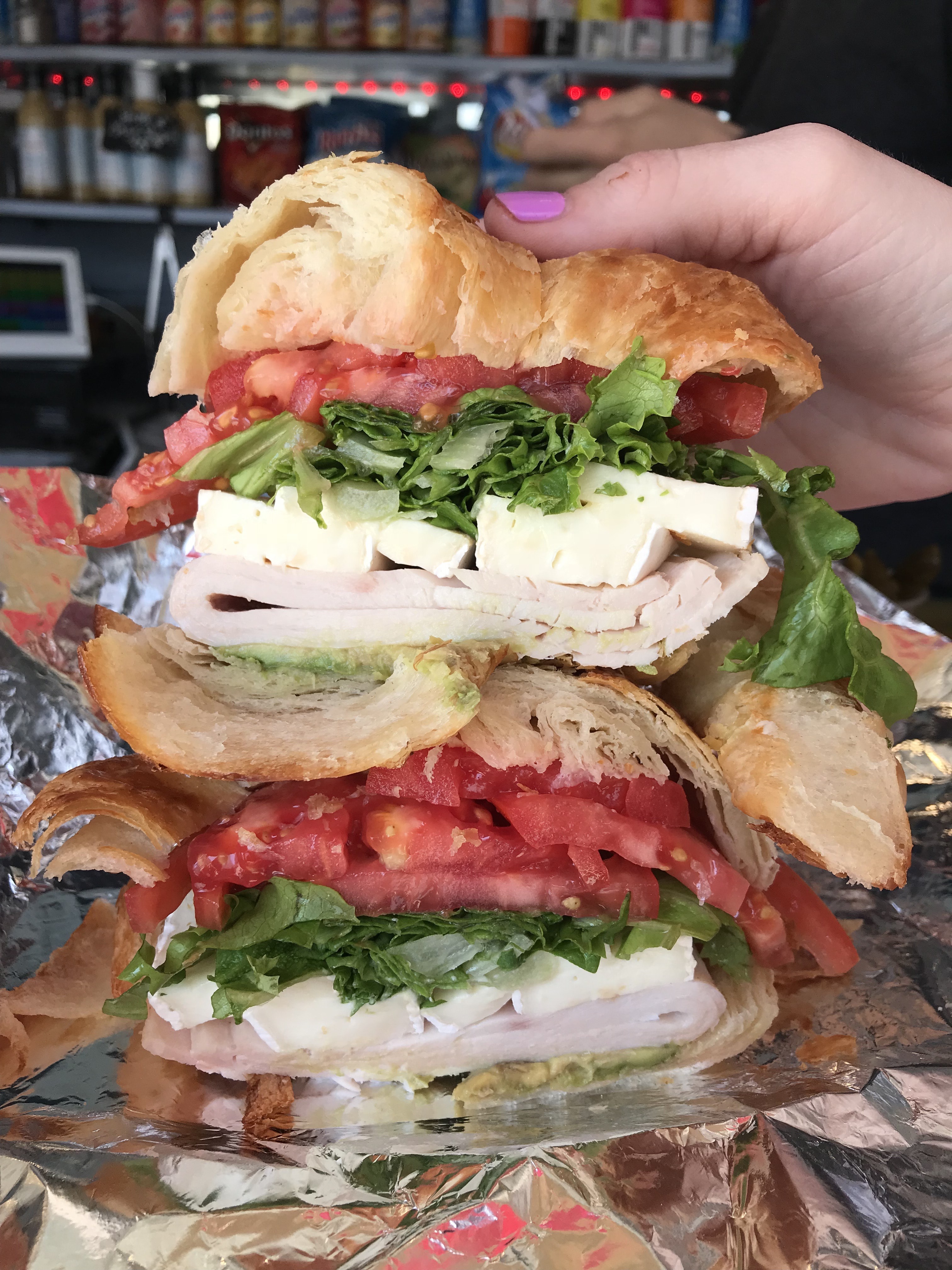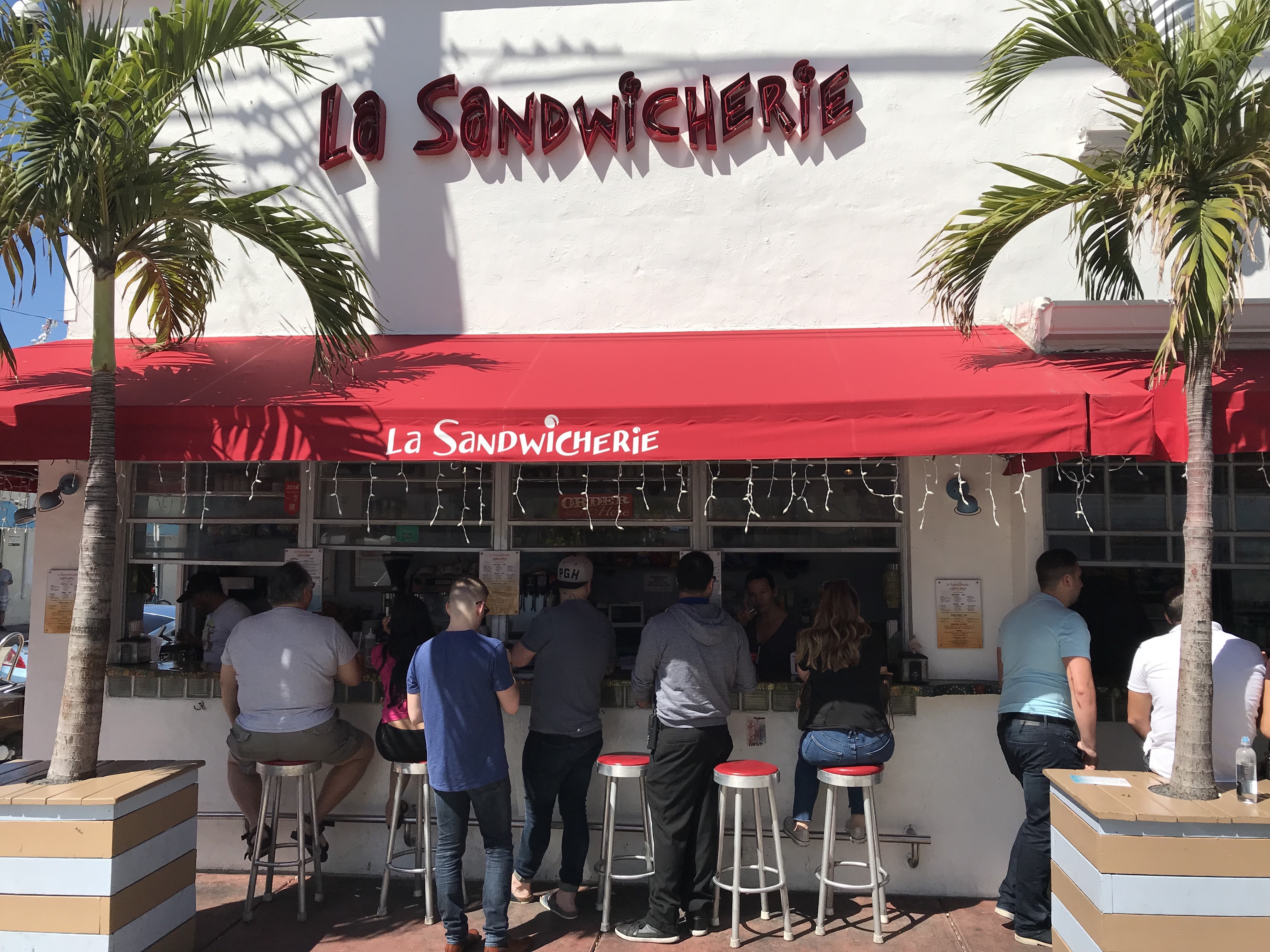 DINNER OUT
The Edition Hotel might as well be called the Fun House of Miami. You could literally stay there all day for a week and do everything your heart desires without getting bored. More on activities below. Anyway, I love Jean Georges restaurant The Matador Room here. The pool glows at night and makes for a quaint vibe as well. Order the Sweet Pea Guacamole with Tortillas (like they have at ABC Cocina), Wild Gulf Shrimp,  Crunchy Calamari, Arroz Con Pollo with Crackling Skin.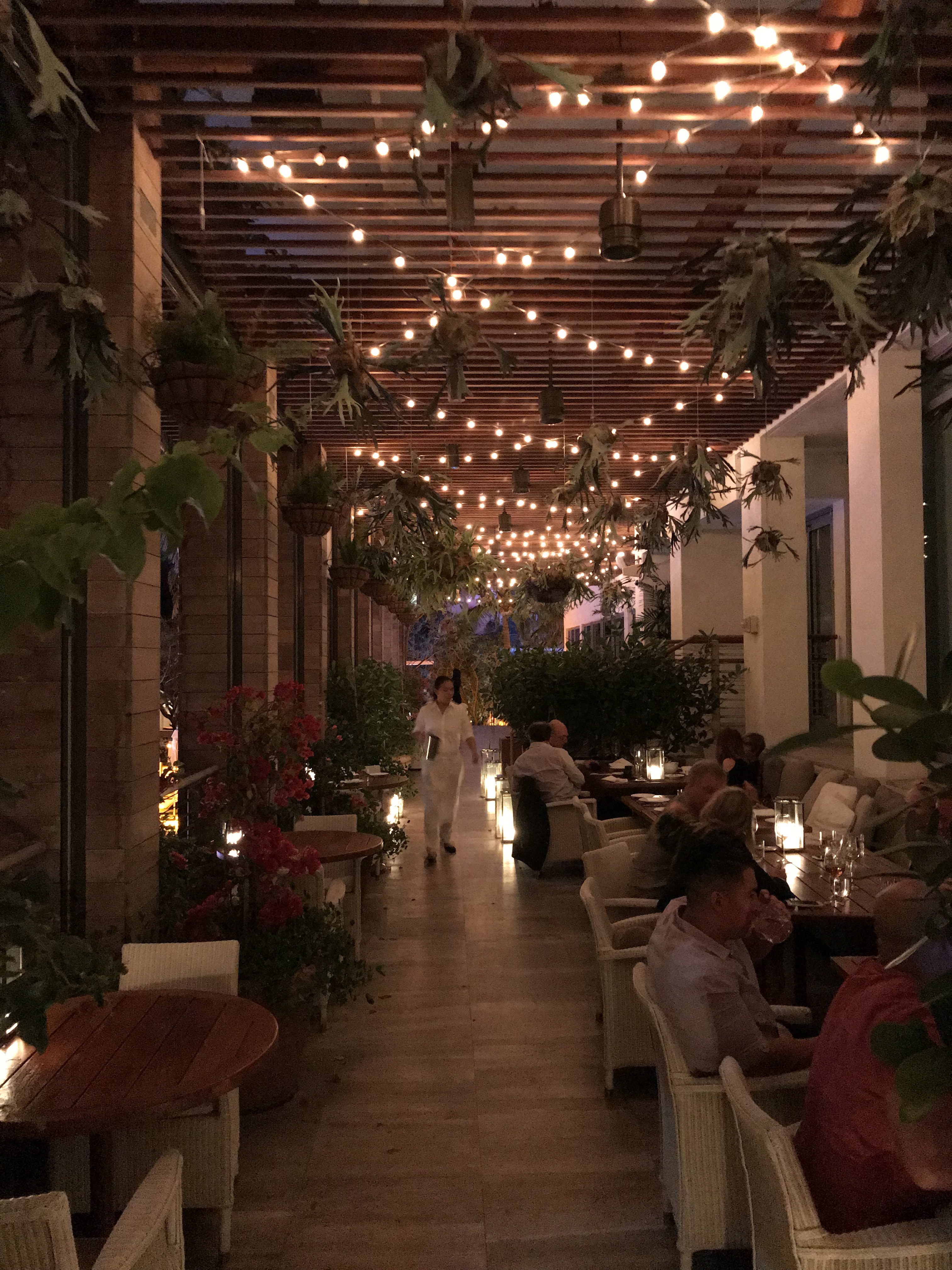 MILA is a newer rooftop, restaurant in Miami that is away from the main South Beach area with all the hotels and clubs. It was super fun to check out a different area off that strip and the food was really good. I love the outdoor vibe and the food is considered MediterrAsian. There are large wooden pergolas, a little pond where a female fire dancer frequents, and some loungey tables as well. The inside is pretty large but we sat outside and enjoyed ourselves. Order the Shishito Peppers with Miso; Eggplant with Tomato Relish and Pesto; Tuna Tartare; Tuscan Kale and Asian Pear Salad; and the Spicy Hamachi Roll was my favorite sushi.
SEASPICE wasn't the best service but it was lovely sitting on the outdoor deck under the string lights watching the boats drive by and hearing the DJ. We had to do a prix-fixe menu which was WAY too much food, but still pretty good. I can't get over the Seaspice platter which consisted of 1 lb. of Maine Lobster, Jumbo Shrimp, Oysters, and Alaskan King Crab. I guess that was the benefit of the prix-fixe as we probably wouldn't have ordered it otherwise. Their garlicky, pillowy, pita looking bread to start is also hot and tempting! We had a couple pizzas, lamb chops, salads, truffle oil mushrooms, (skip the plantains). Seaspice is right next to Kiki's which is a pretty popular restaurant and clubby vibe. We had too many people for a dinner table but I think it looked fun as well!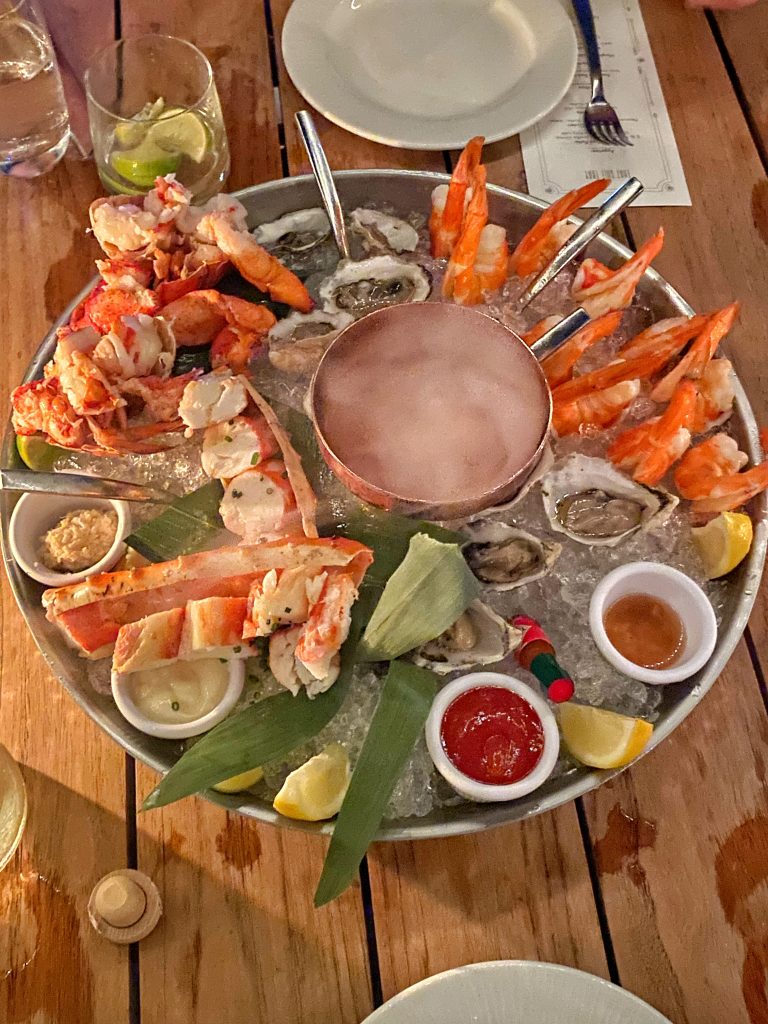 PRIVATE CHEF IN
The benefit of having the bad ass apartment aka apartment at the 1 Hotel Residence is that you can have a private chef come in and cook a full dinner for the group. Deanna from The Cooking Collaborative was so helpful and easy to work with! She is a one woman show making delicate yet delicious dishes that suit your tastebuds and budget. She was in and out in around three hours and served us a gorgeous meal of: Tuna Tartare with Plantains, Sweet & Spicy Salad, Coconut Cauliflower Bites (which was my favorite and in a Sweet Orange Asian Sauce), Roasted Brussels Sprouts, and Bison Sliders. We had a family style meal, the hotel provided an extra table and chairs to fit everyone, and we stocked our fridge with champagne and rosé perfect for the evening.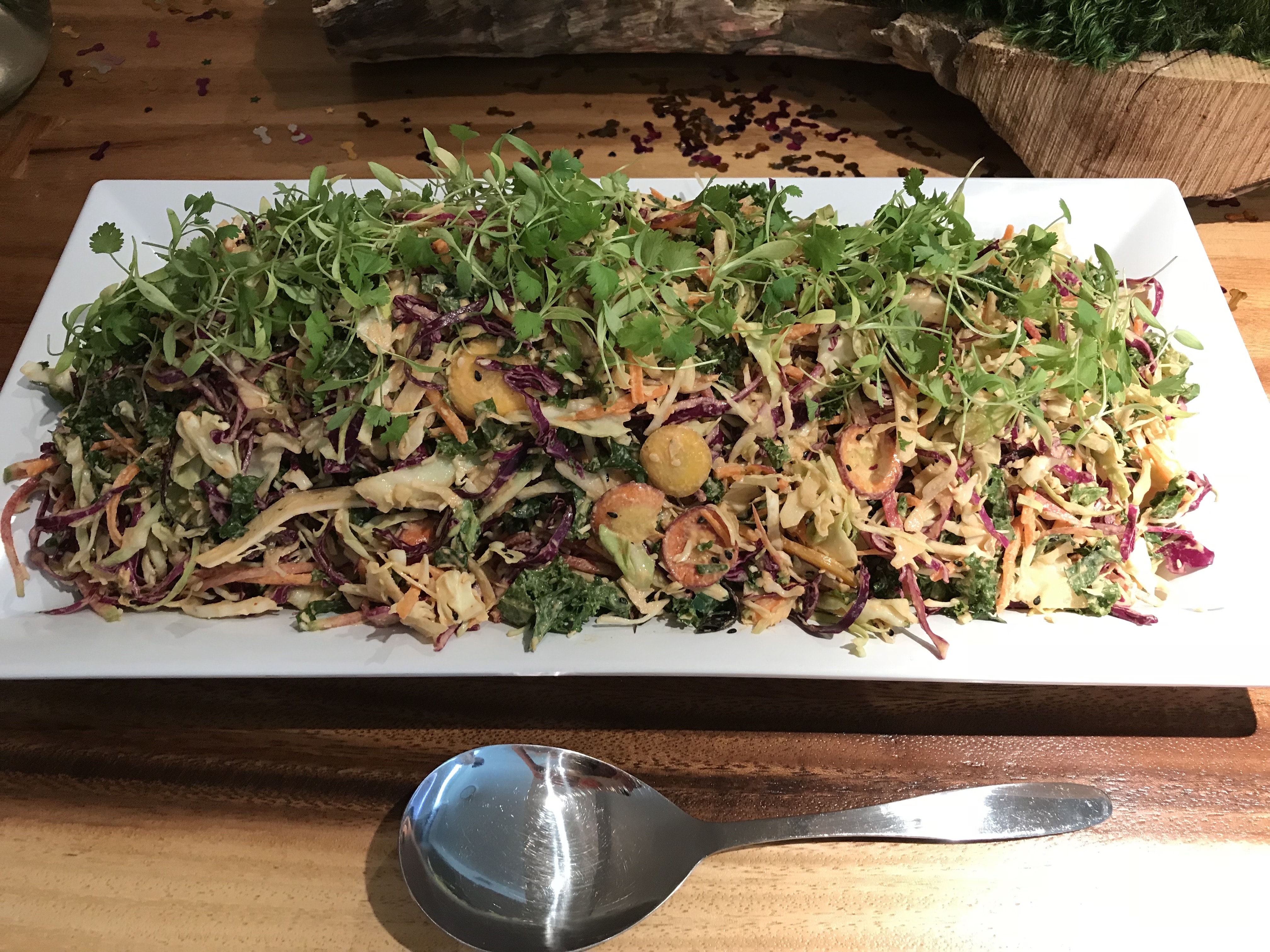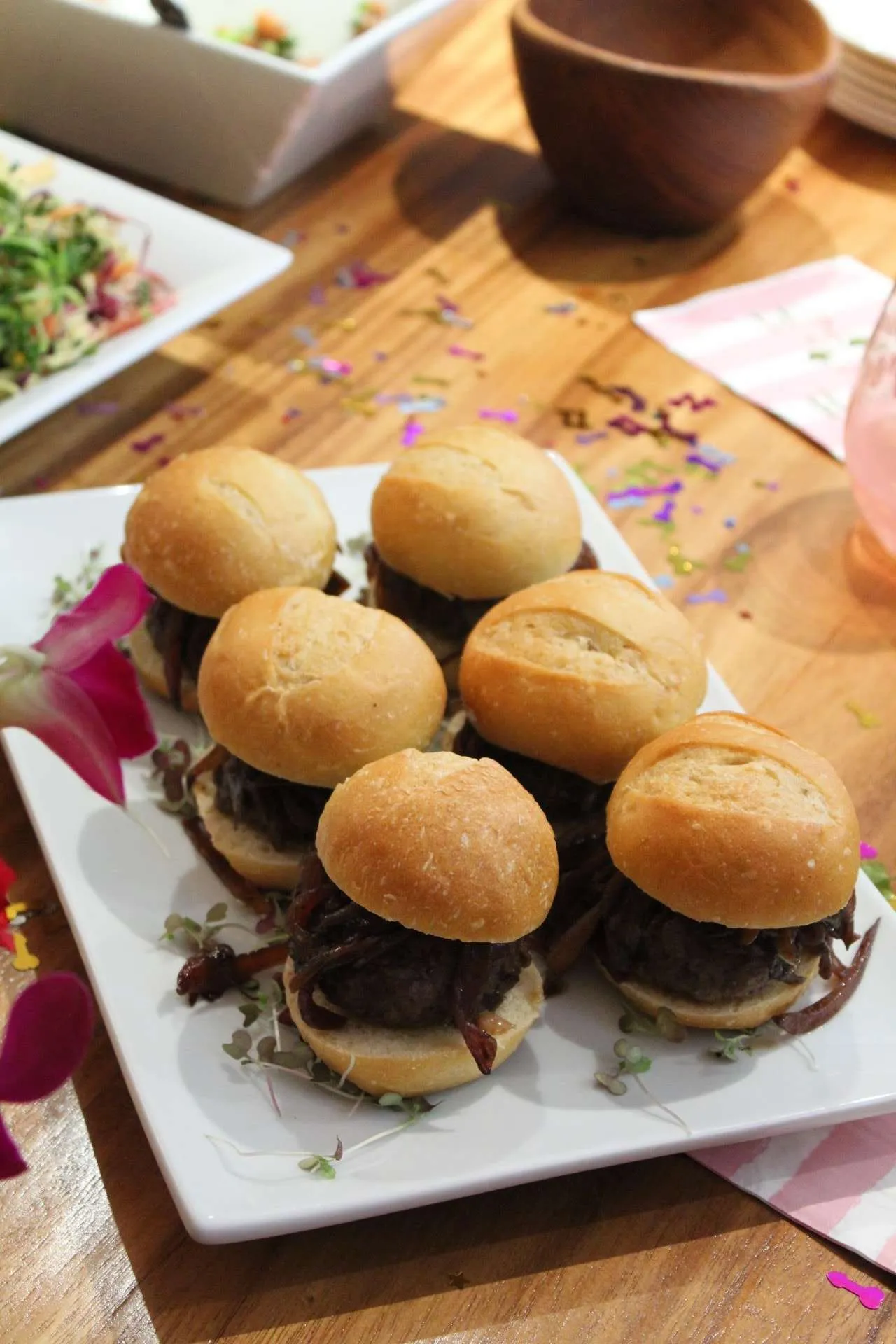 DINNER + A SHOW:
After a couple nice dinners out or in, you deserve exposure to El Tucán. A wild show with fire, live music, wigs, tassels, and some sort of stripping. These dancers are incredible and keep your attention away from the food. Dinner reservations are at 7:30 p.m. or 10:30 p.m. in Brickell which is an Uber ride away from South Beach. $55 for the food includes guacamole and chips, and your choice of an appetizer, entree, and dessert. Go for the salmon entree as that ginger rice is good!
DINNER IN:
We ordered Pubbelly Sushi in one night to the hotel so we could do the lingerie shower. The 1 Hotel is so helpful with all kinds of plate wear, service, and cleanup. Go for the infamous Butter Crab Roll with soy paper, kanikama, ponzu, warm clarified butter; Rockshrimp Tempura Roll; Yellowtail Roll, and Wedge Salad.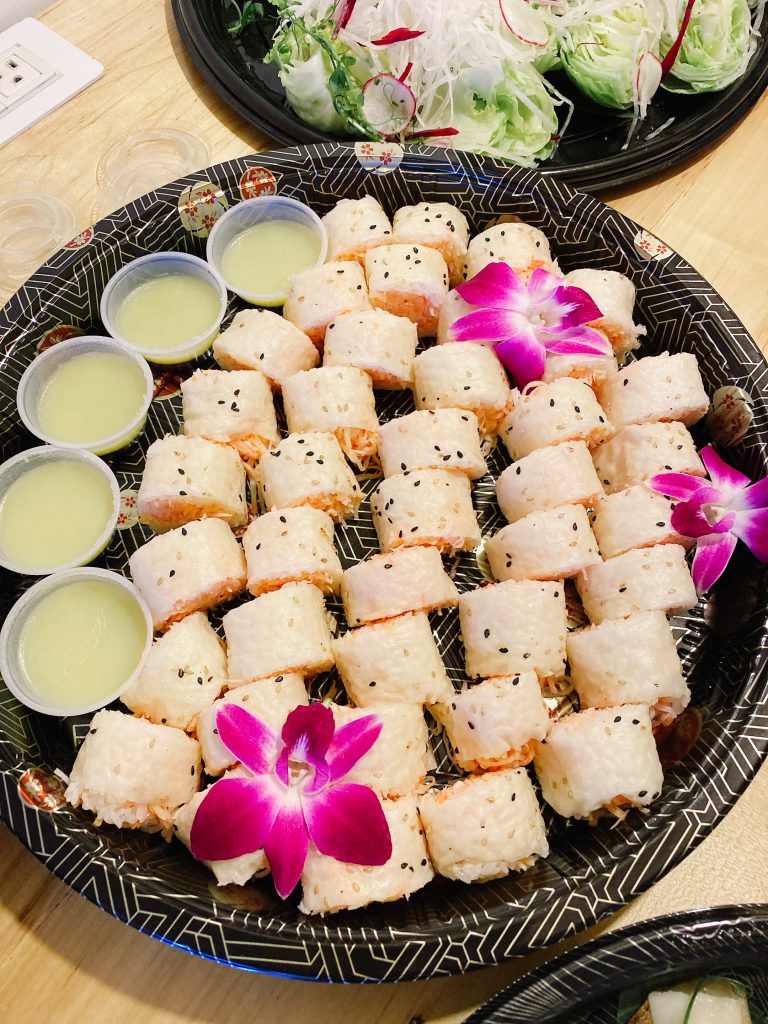 NIGHT CLUBS/ GOING OUT
BASEMENT @ THE EDITION:
As I said, this gorgeous hotel is a playground and a place I never want to leave. Booze gives you courage and after that El Tucán show, I thought I was Tonya Harding and grabbed some ice skates a ticket to the skating rink downstairs for ($30 pp) downstairs and skated my dreams away past midnight. Some people choose to drink themselves silly in the dancing club down there, but apparently I had my eyes on the ice. It was a blast, and I highly recommend it for something different. Part of our crew set up shop at the bowling alley right there as well for neon, late night bowling, and then we recollected ourselves in the club a few feet farther dancing to some great music.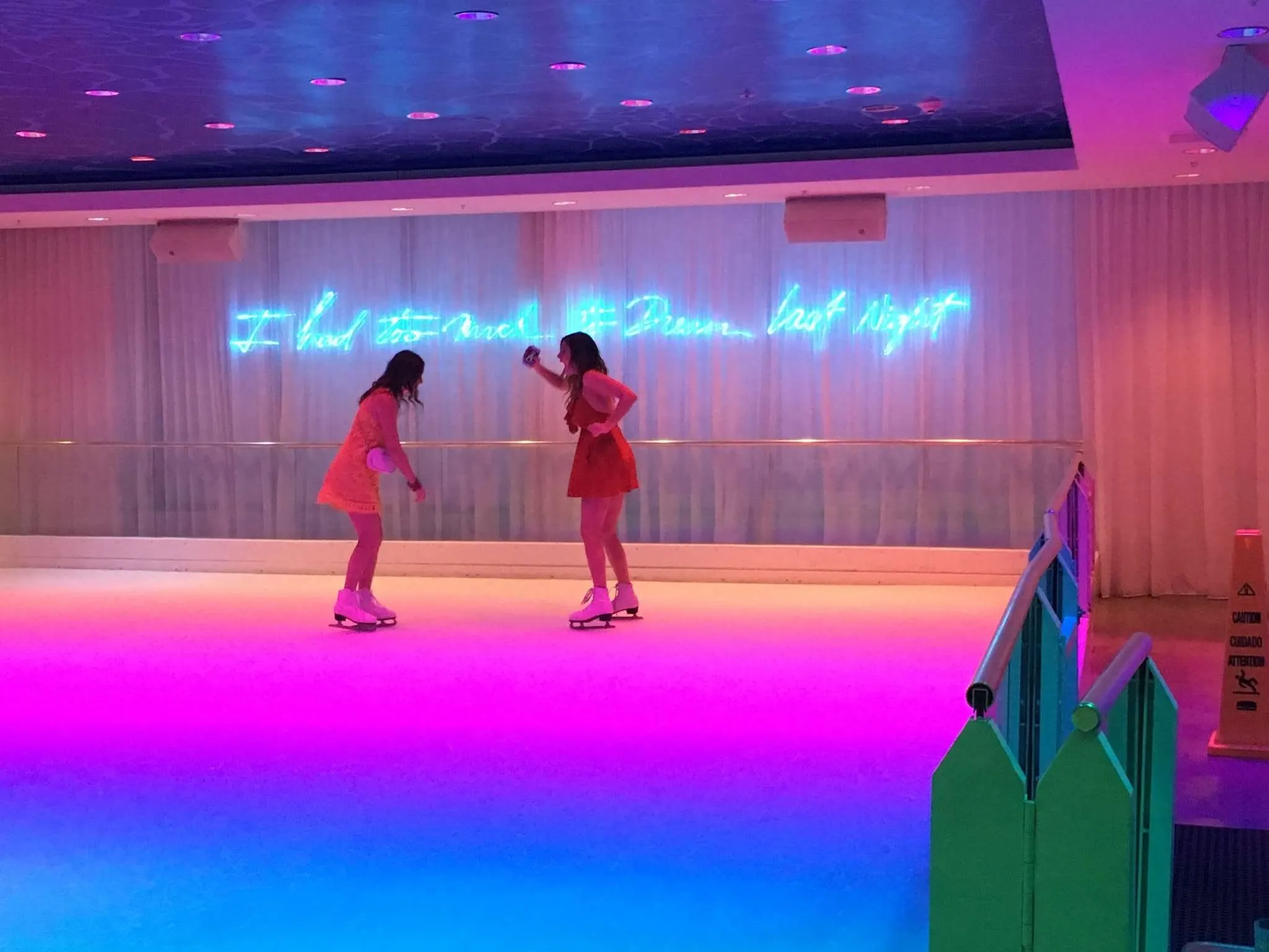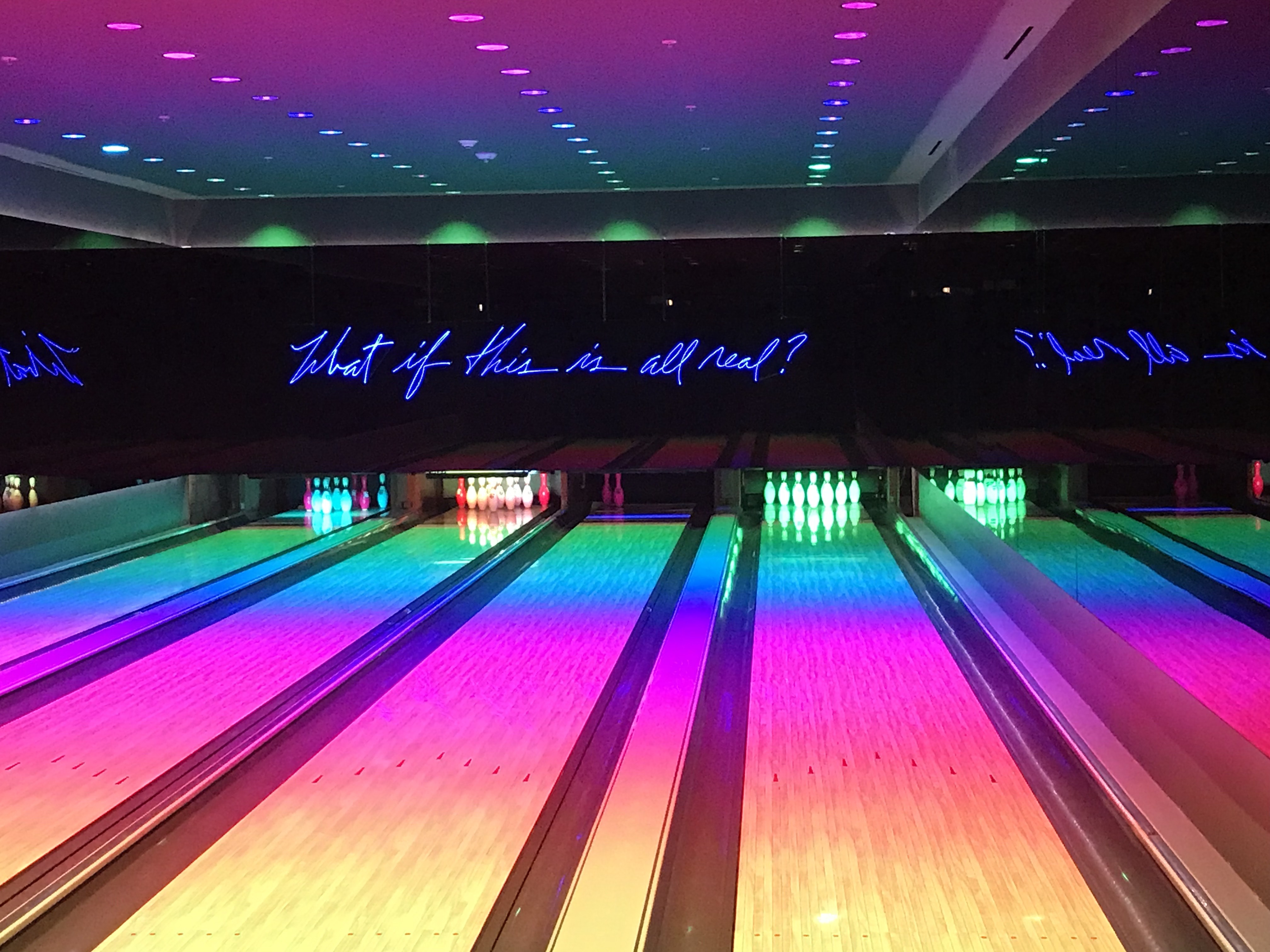 THE LIVING ROOM & THE FAENA:
The Faena has THE most gorgeous art deco entrance. With colorful and gold painted walls, tiled mosaic floors, and giant windows looking onto the backyard, this place is perfect for photos and feeling alive. Try to catch the view of the "Gone but not Forgotten" Damien Hirst piece. It's a gold wooly mammoth skeleton display outside in the back. It's glowing and almost floating it's so beautiful. I went to a wedding out here, and I will forever be indebted to visiting this piece every time I set food in South Beach. It's a site not to miss. Anyway, come to the hotel for The Living Room. It's a fun and intimate lounge with optional table service and an amazing live band on Thursday nights. Dance the night away without being in an expensive club. We even rubbed elbows and exchanged dance moves with NYC artist, Bradley Theodore, known for his Karl Lagerfeld paintings.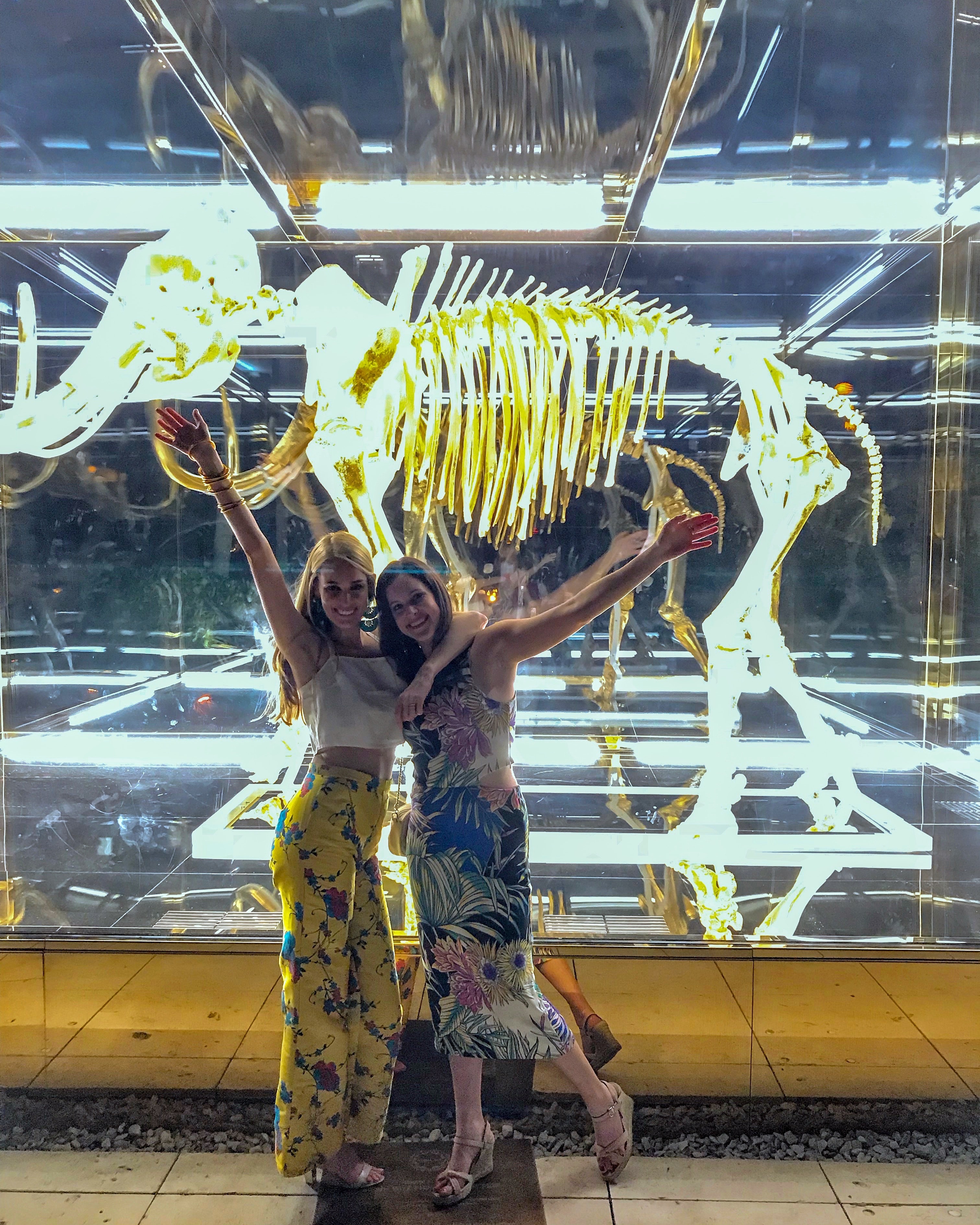 JOIA BEACH CLUB
This is a super fun spot to get drinks on the water and watch the sunset. It almost feels like Tulum. You can come here all day, for an early bevy before dinner, or a more casual dinner on the beach. The aperol spritzes are delightful as are the dips like Hummus, Tzaziki, and Sardines.
GRAMPS in WYNWOOD:
For something super casual, head to the bar Gramps in Wynwood where you can get cheap vodka sodas and dance to all the songs you partied to post-college. You'll hang outside, hear each other, and have more space than a tight nightclub. This could be fun for a Thursday night evening when you first arrive.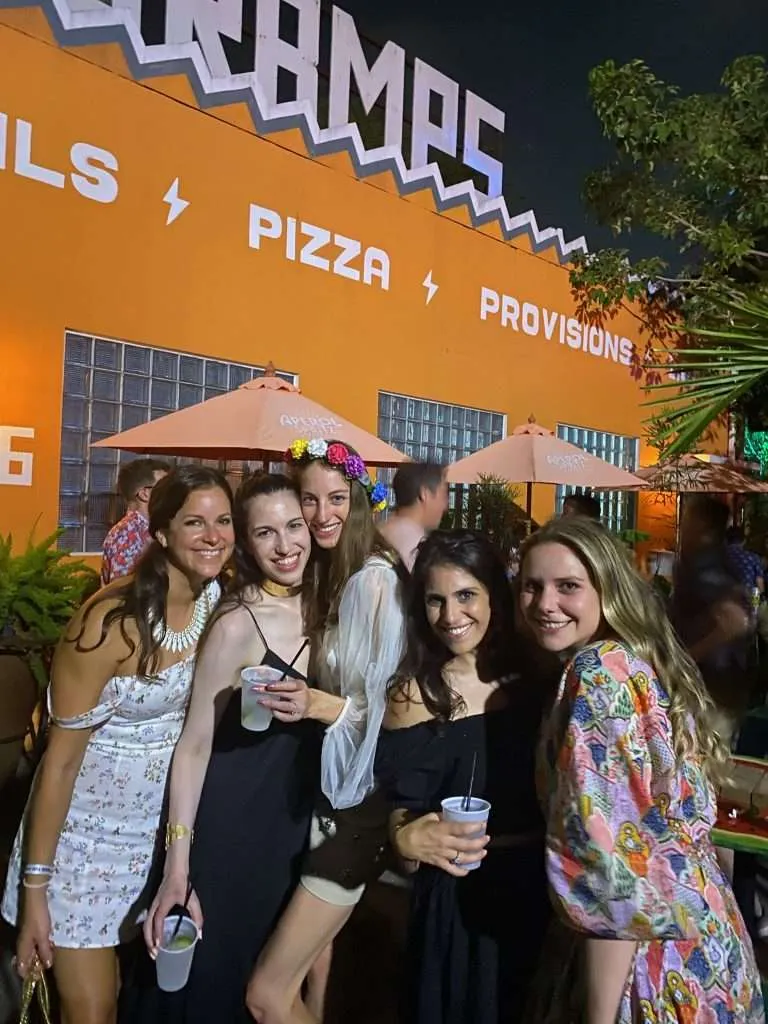 LIV:
For a megaclub situation with bottle service, ropes, famous DJ acts, and raging, head to LIV. It's pretty easy to get in with a small group of girls, but for guarantee with a giant group, go for a table.
SWEETS
KITH TREATS:
I lived next door to Kith in New York City, so when I found out there was a Kith TREATS down the road, I obviously had to sneak away from the party to get my fill. Creamy vanilla ice cream base mixed with your choice of cereal is the game here. I got snickers, rice krispies, and frosted flakes.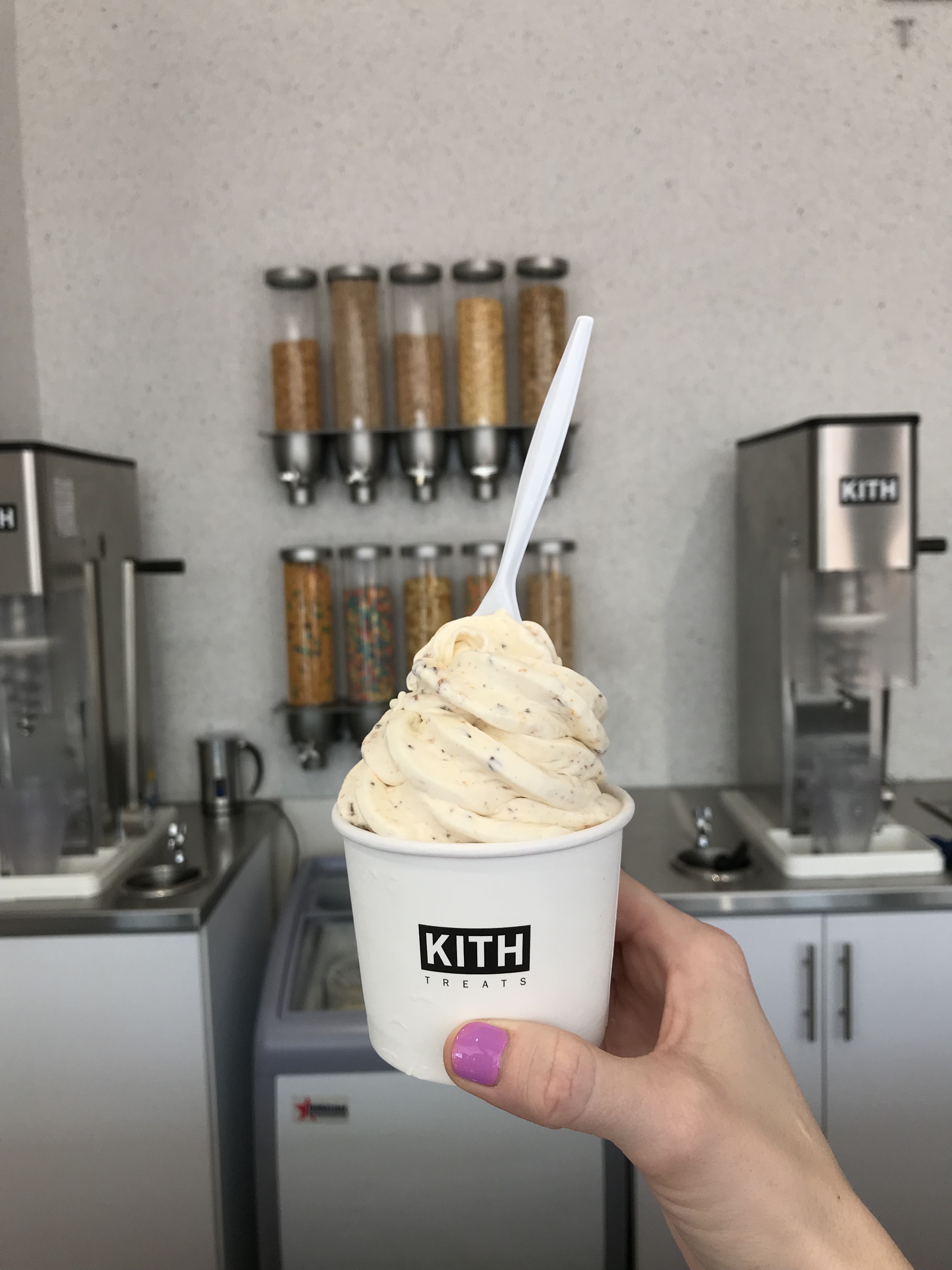 MDOUGHW:
If you really want to step up the weekend game, order some customized, local cookie dough cups by MDOUGHW. This is one of my favorite desserts in the entire country and you can send Margo (the owner) photos to put on the outside of the wrapper to give it your own pizazz. I put a photo of the bride and groom on here, but the real treasure was inside the wrapper. Go for the Chocolate Chip stuffed Brownie and the Funfetti stuffed with Cookies and Cream. There is also gluten-free and dairy free options, y'all!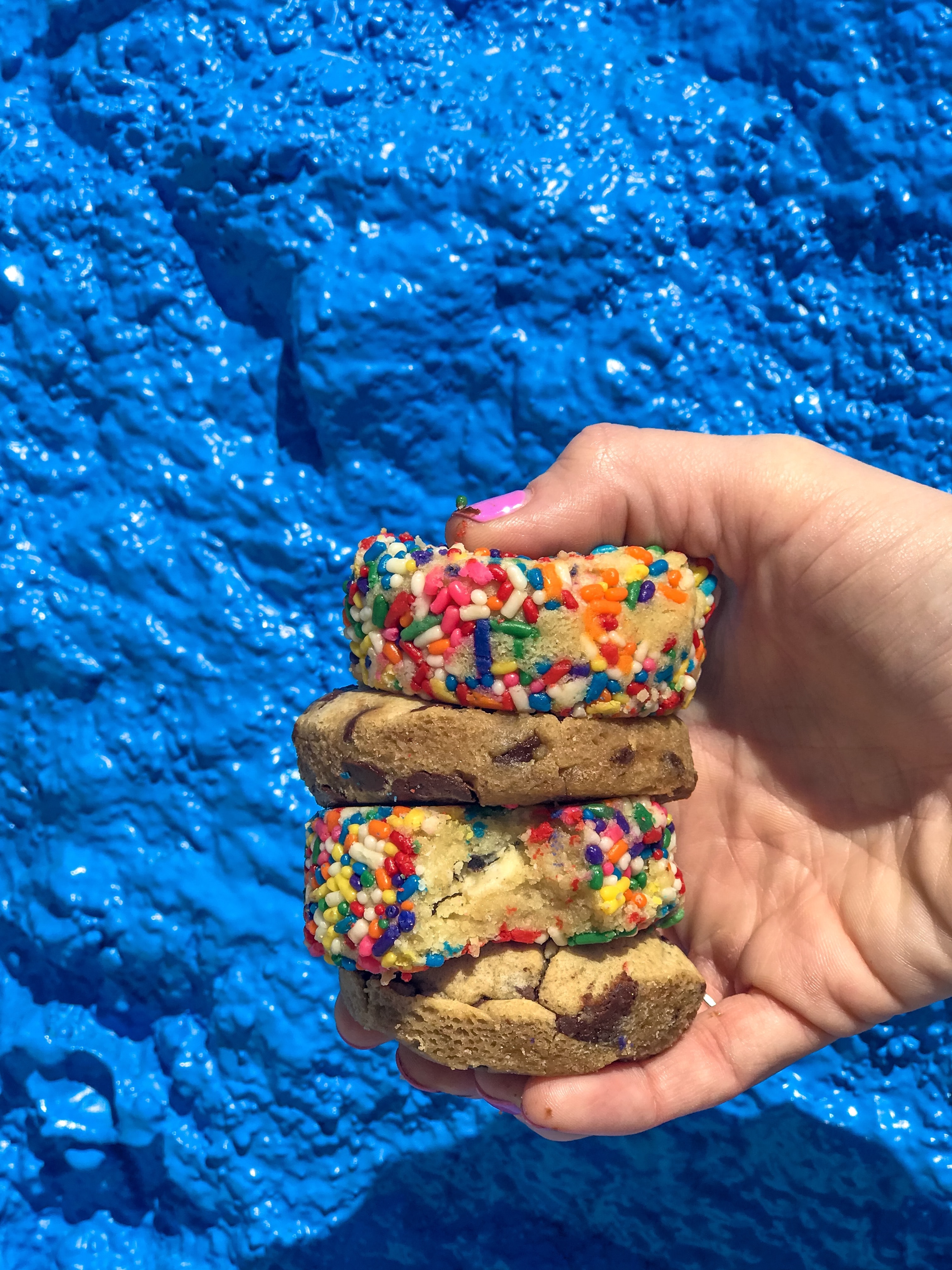 ART ACTIVITIES
If you have even 30 extra minutes, stop by The Bass Contemporary Museum which is only two floors. Surrounded by lush landscape and the colorful Ugo Rond sculpture in the front yard, it's a site not to miss. His exhibit upstairs called Good Evening Beautiful was full of dressed up mannequin clowns and bright colored walls. This really makes you jump out of your skin, but I can promise you've never seen anything like it.  The museum is full of Mika Rottenberg experimental pieces and video and really pushes the envelope.
Art Basel is one of the biggest draws to Miami all year in December, and if you aren't making it to this art fair, head to the urban graffiti walls called Wynwood Walls. There are a bunch of nearby galleries you sift through after spending sometime in the park. Also, check out Zak the Baker breads if you find your way up here, no excuses.