I'm really digging the morph between the coffee and cocktail bars lately. The cocktail part makes a coffee shop a bit cooler, and the coffee part makes the cocktail part more casual and less pressure to drink alcohol if you aren't feeling it. One thing hard to find here is a place that serves elevated fast-casual food that is still acceptable for ordering to go and not $30. Better Half is perfect for a morning, afternoon, evening drink, post work out meal, and easy pick up dinner. Step on in grab a menu, order at the counter and grab a number while you wait on the back patio or indoor booth. If you are a coffee drinker, you might be pleased to know the owners here are from Brew & Brew. If you are a food person, you'll be delighted that Rich Reimbolt and Jen Tucker who used to work at Josephine House and MMH, are behind the food and pastry.
Believe it or not, the sweet spot here is that homemade, tart, sour cherry jam that comes with a buttery biscuit order. DAMN. I got a side of this jam to-go and once the biscuit disappeared, you bet your bottom dollar anyone would finish those plump cherries with a fork. I thought there would be more biscuits in Austin (yes, I know Mattie's, Counter Cafe, Fixe, but we could use more like Better Half!).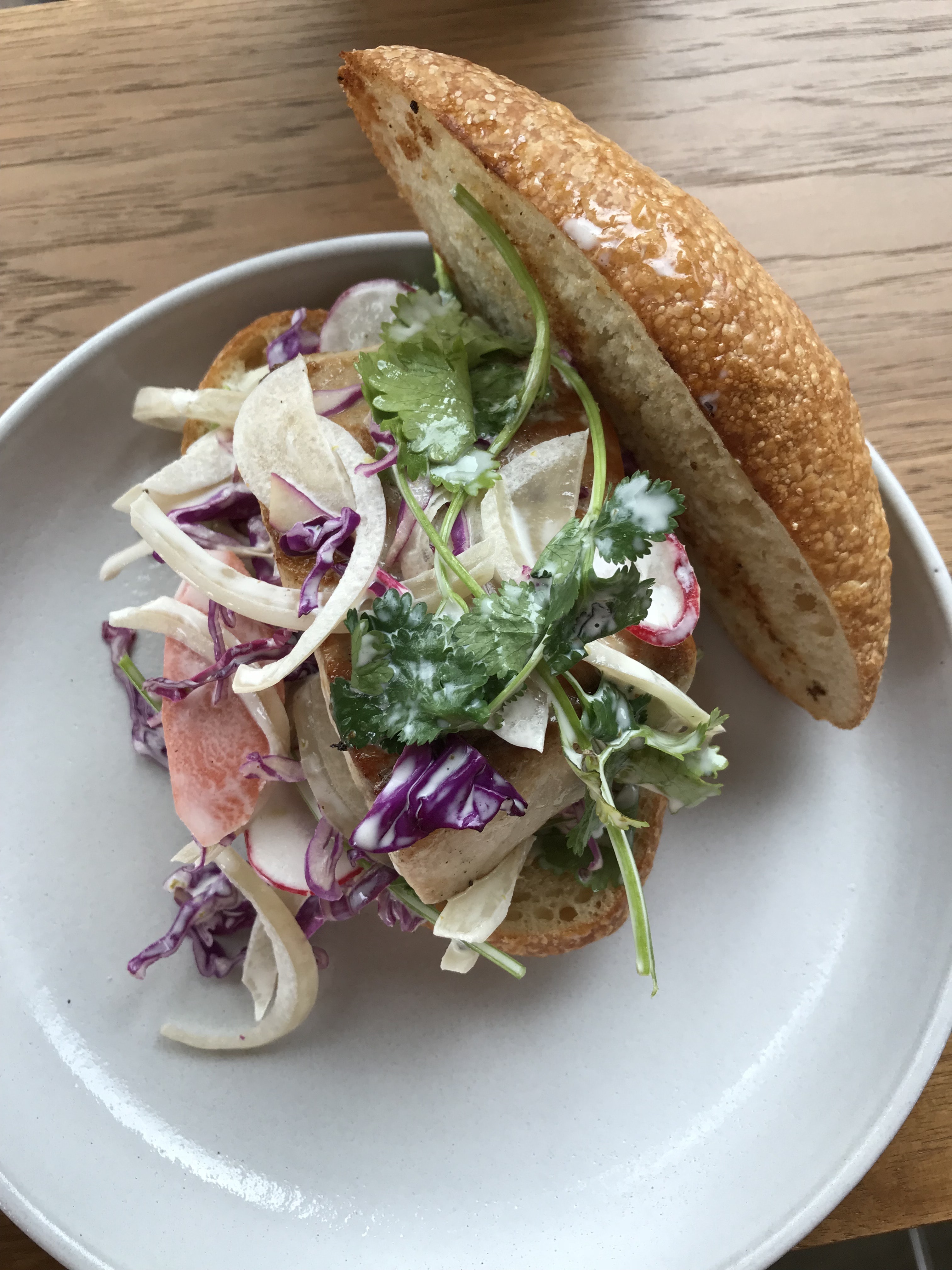 After the biscuit and jam app, go for the Gulf Redfish Torta with escabeche, charred lime aioli, cabbage, radish cilantro. The large portion of fish and great quality is a steal for $15. The homemade bread is just the right texture and height to hold the precious fish as a vehicle for traveling into your mouth. The sandwich is clean, not messy at all, nor heavy. I also like the Greens & Grains which include smoky mushrooms, tamari broth, wheat & rye berries, puffed wild rice, and a fried egg. It's super smoky and very filling.
Some wild cards include Cauliflower Tots with Beet Ketchup and a "Quick" English Muffin Sandwich that probably is utilized by those not waiting for a number but grabbing a breakfast sandwich that's already wrapped. I got a Lighter Half Salad with Pulled Fried Chicken to go. The salad held up well and the fried chicken skin is spicy, crunchy, and juicy pieces of meat where there was meat. (Some of the pieces were just skin).
This hipster spot reminds me of the east side, and I'm so glad it's interrupting Clarksville's food scene with some delicious action! I can't wait to check it out for cocktails on the weekend and to snag a slice of Tucker's S'mores Cake. Special note: BH is open for breakfast lunch and dinner everyday except Monday. Closes at 3 p.m. Monday, late Saturday and Sunday, and midnight other nights.