You know that giddy feeling that overcomes you when meeting someone you admire in your industry, or when you just really hit it off with someone new? Well, I used to get this feeling when dining out at new restaurants in NYC – especially if it was a long time coming from one of the chef moguls in town or a completely different cuisine than I'd ever tried. In 2017, there were very few places that opened like this in Austin. In 2018, there is definitely a shortlist for me where I walk in and think WE'VE FINALLY GOT IT— The Brewer's Table, Intero, Suerte! Carpenter's Hall at The Carpenter Hotel is off the charts in that category for me. When you walk in, it's a hotel entrance which might throw you off, so you creep forward to the host stand wondering if you're in the right place which creates some uncertainty yet excitement. The walls almost feel like a school and then BOOM, the sexy yet casual mood in the dining room hits you as the bright lights from the open kitchen help to guide you to your seat. I love nothing more than having a front row seat view into an open dining room so I can analyze the crowd while wondering who is this eager to venture to a new restaurant so early and this "in the know." I love seeing their plates before I order, listening to how the staff greets you and how they decide to tell you about the menu. Do they tell you that you need 6 plates per person to up-sell you or tell you their favorites and somehow list every dish on the menu? (Not helpful).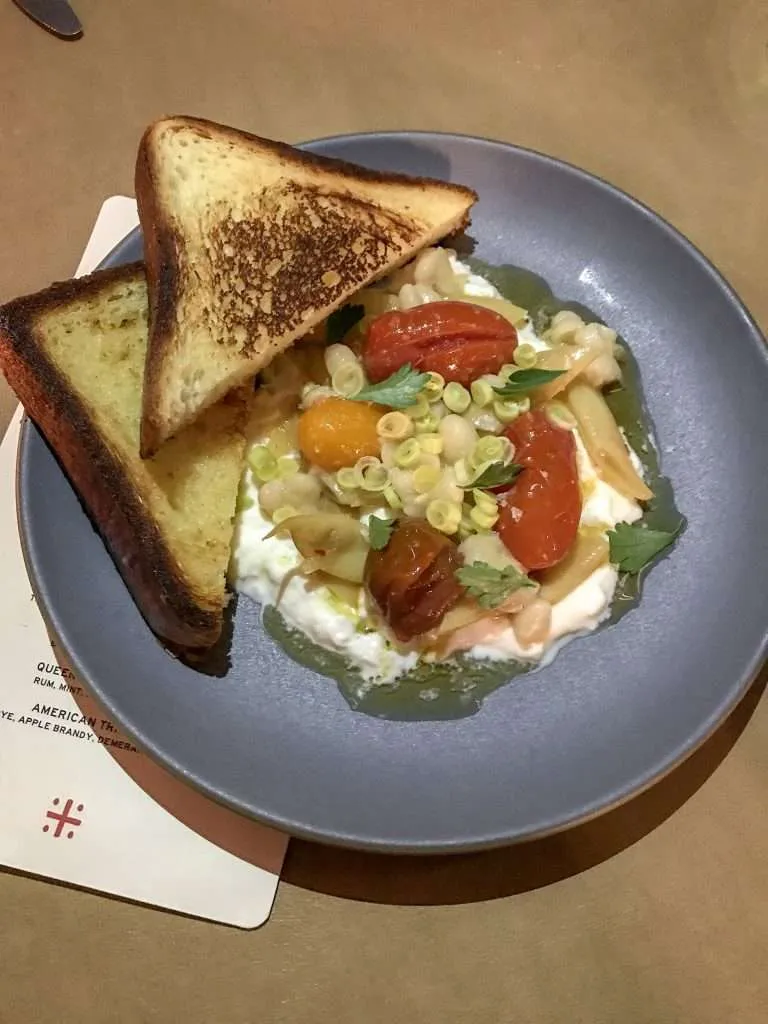 For my first impression, Carpenters Hall is seamless. The menu, style of service, and vibe replicates the exact feeling I used to have when reviewing a new, hyped up spot in NYC. While most people seem to be dissapointed by new establishments when there is too much hype, for me in Austin I feel lucky that we gain a new treasure and new place to eat. We have a dining scene that I have seen truly blossom in the last two years even without countless big names and larger groups that make strides nationwide like Major Food Group (Carbone), Dave Chang's Momofuku Empire, NoHo Hospitality (Andrew Carmellini), etc.
Carpenters Hall provides a sense of security for the future of the Austin dining scene. It's no surprise that they matched a lot of great talent from Portland, NYC, and locally to create a space in Austin that is really going to shape the next year and continue to set high expectations for new comers. The casual dining room with simple banquettes is shaped in a way that you can really see who is who, and it creates a fun, "going out," atmosphere which I think can be tough to find at times. The menu reminds me of Cervo's in NYC where you look at it and are unsure how it's all going to play out together, but once the dishes hit the table, you're wondering if it's possible to order the rest of the menu and still have room.
Now onto the food–> there are a lot of small snacks to start off with like marinated olives, radish with green goddess, but SAVE room for all the upcoming homemade breads and pastas. You'll need every square inch you can get. I loved the Stracciatella with Dragon Tongue Beans and Tomato. The buttery toast  dipped into the mixture and delicious cheese transports you to Italy. I also loved the Escarole Avocado Caesar with croutons and pecorino sardo. Salads can be really exciting or really disappointing and the large crunchy leaves with just the right amount of dressing works well with the avocado and a Texas nod. I love seafood, but the Spaghetti with Clams and Garlic out shined the Crispy Fluke. Chek yes to made from scratch and al dente noodles and cavatelli. This is all the food you want to eat and flirt with when dining out. You can't make this at home.  The Cavatelli is a play on cacio e pepe and it's done WELL. It's made with pecorino, lemon, and black pepper. You'll also witness a giant Chicken Schnitzel dancing through the room that looks large enough to feed a party of 4.  Next time I'll get the Steak Frites. Don't miss the Shrimp Fried Rice with pimenton and hazelnut salsa. It's $12 and to be honest I would go sit at the bar alone and just indulge in that. You might think it's strange to be on this menu, but again Carpenter's Hall is serving food you want to eat and is a menu that cannot be put in a box. We skipped the dinner dessert menu which had a giant piece of Carrot Cake that I have still been thinking about. Have no fear though, my pal Andrew saved us some Sea Salt Chocolate Chip cookies from the hotel's coffee shop, called Hot L Coffee. We immediately annihilated two of these masterpieces from the to-go box at the table before our fluke was cleared. No one is surprised here. 
(Coffee Shop Sitting Area)
I'm happy to welcome some new folks in town and a new restaurant and hotel space that fits right into the neighborhood. Whether you are looking for a space to work in during the day, a date night, dinner with parents, or just a swell meal, this place is truly worth a shot!