Carbone…Oh, Carbone. This place has gotten as much press as Kate Middleton and Prince William's wedding. Well at least that's what it seems like. The Italian haven has only been open for a month and each night the seats are filled with food editors and lovers expressing their love via social media from the New York Time's ex-restaurant critic Frank Bruni to Food & Wine's critic Kate Krader. I've never been as giddy in a restaurant as I have while waiting to be seated at Carbone. It was as if I was on an exciting first date which is pretty ridiculous that a restaurant could create this same feeling. The stylish waiters, composed of lively and accommodating older men with slick hair, are dressed in maroon suites and bow ties. They float around  flying bottles of wine and pasta throughout the three rooms, making table-side caesar salads and delivering carrot cake slices seamlessly at all times. They do it all here. Black Lobster Ties
The music is one of the best things about this place. Songs like Billy Joel's "Uptown Girl" and The Supreme's "Where Did Our Love Go" create the atmosphere of the old school style Italian spot. All of the five senses here transport you back in time or to a classic Italian New York establishment in Little Italy or Midtown. What also makes it so amazing is the hospitality and appearance of the partners. You'll see one partner greeting and visiting almost everyone who walks in the front door, and the chef partners in the back manning the kitchen. This makes it so friendly and feel as if you are at someone's dinner party in their home. The tables are pretty close together and visible by everyone who is in the room. All of these components (which don't even include the food yet) are what make Carbone so special already. This hospitality, inviting mood and service are the successful qualities that will make this a "regular" spot for diners.
Carbone's food is straight up legit Italian. Plates of parmesan, the best garlic bread and ham are dropped down in front of you starting the circus of food. The Macaroni category is full of seafood combinations and classic red sauces such as Spaghetti di Mare, Spicy Rigatoni Vodka and Tortellini al Ragu which can all be split portions. Do not miss the Lobster Black Ties. Upon first glance, the black pasta and tender chunks of lobster look perfect alone. However, this is just the tease as Enrique (insert your server's name here) dusts your plate with homemade bread crumbs and spicy red pepper flakes creating an incredible texture and making the entire dish complete. The breadcrumbs are killer.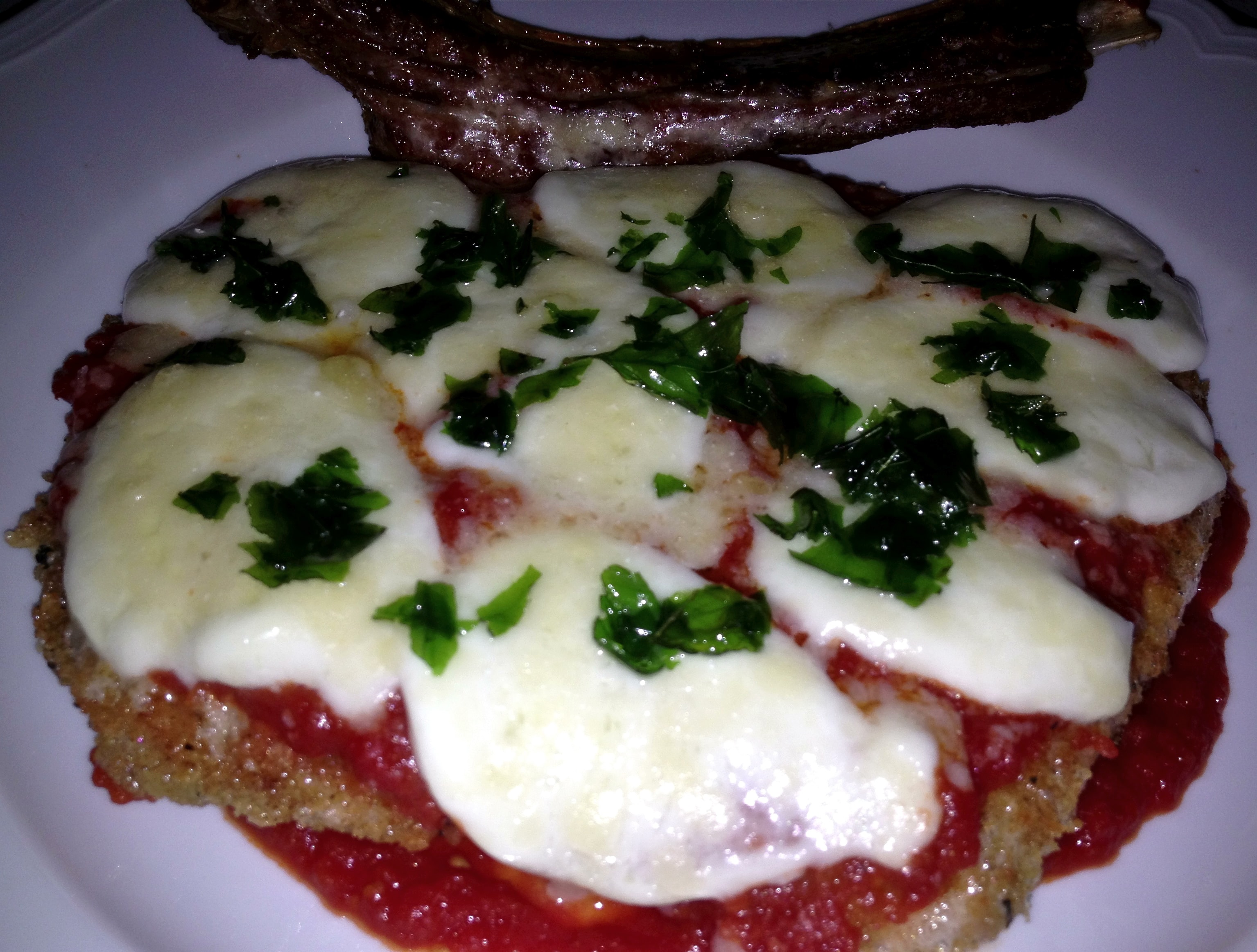 Veal Parmesan
The off-the-menu Meatballs taste just like the ones offered at Parm, so you can get those there anytime. Get the Veal Parmesan instead. This $50 baby calf is delicious yet intense. It's huge and prepared very carefully with just the right amount of sauce and mozzarella dollops that you attack with a steak knife. It's tender and you can tell just by looking at it the nice grade and cut that it is. I was down with this and shocked (since I am such a seafood lover) that this was my priority on the table for the evening. The Bass Vino Rossa was prepared in a darker sauce with artichokes. The sauce was too rich and heavy on the fish for me to enjoy the bass. The Creamed Escarole is a pretty ridiculous, cheesy masterpiece. This could even be a meal on its own, but what jokester would actually limit themselves with this menu?
Banana Split
At this point you'd think you'd have to skip dessert, but when Enrique reports that he has a special Banana Split (photo above) with banana bread embedded at the base of the dish, how could you say no? You are already here, and once it gets later in the night Jay-Z tunes are released and you just can't pass up dessert. The Carrot Cake is definitely the one to get. The icing is absolutely perfect and outshines the cake itself. The fact that its shaped like a half moon is distracting and you won't be able to take your eyes or lips off of it. Carbone is extremely special and a night to remember. This is the restaurant to come to when you want to have and enjoy the perfect date or to celebrate life and its fabulousness.
Carrot Cake