There comes a time in life when a Texas outsider finds out what QUESO is. No it's not "cheese dip," and no it's not just melted cheese. However, it is a combination of all kinds of cheeses, sometimes tomatoes and onions, and even sometimes some added ground beef. There is a white kind, a yellow kind, and a mixed kind. You dunk your tortilla chips in this bath of cheese and drizzle it on your tacos, fajitas, or whatever Mexican food you have that morning, day, or night. While it'd delicious, I was exposed to something that was even more life changing than your first chip dunk. My friend's Mike & Audrey Schott had an overly impressive (can you use both of those words together, well if not this is how impactful it was) BBQ this past weekend. Two 24 hour smoked briskets made an appearance as did homemade Ritz crackers, pimento cheese dip, labneh, homemade tortilla chips and salsa, tamales, sausage, slaw, pies, and more if you can believe. There was one large cheese looking casserole that came outside to meet everyone, and this my friends was the best homemade (I say homemade because I said in a few posts ago at Gaskins that it was the best so I meant restaurant there) and most creative mac 'n cheese I've ever seen. I have never had queso flavored mac 'n cheese using velveeta and rotel which brought me back to my DIY queso childhood days. This pasta is cooked pretty al dente and the chips on top give it that extra crispiness. Enough already, see and make for yourself!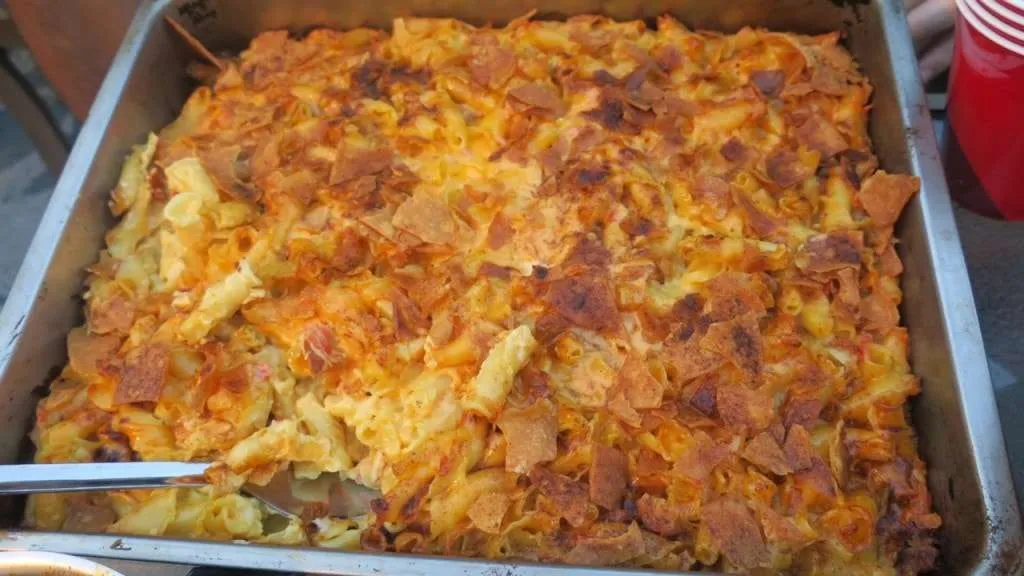 Active Time – 20 minutes
Total Time – 65 minutes
Yield – 12-18 servings
Note – recipe can easily be divided in half for a smaller yield, simply ensure the consistency of your béchamel before adding the cheese is still that of a slightly thicker pancake batter.  If dividing in 1/2, use a smaller baking dish such as a 9″x11″ pan.
Ingredients:
2 lbs. macaroni noodles – traditional elbows, shells or campanelle (preferred due to the large openings which allow the sauce to hold better)
6 TB butter, plus additional 1 TB for greasing the pan
1/4 cup flour
1 1/2 cups milk
32 oz. velveeta
1 10 oz. can rotel (hot is preferred)
Salt/White pepper (black pepper is fine, white is traditional for white sauces)
Pinch of freshly ground nutmeg
8 oz. freshly shredded cheddar cheese, divided
1 cup crushed tortilla chips
1/4 tsp chili powder or cayenne
Directions: 
Pre-heat oven to 375 degrees
Shred cheddar cheese, divide in half.  1/2 will be used for the sauce, 1/2 will be used for the topping.  Do not use pre-shredded cheese as it contains starches to keep the shreds separate which could make the sauce too thick or grainy.
Bring a pot of salted water to the boil.  Can either use traditional method of a large amount of water for making pasta or new method of only enough water to cover pasta by and inch.  (see Kenji's method – http://www.seriouseats.com/2010/05/how-to-cook-pasta-salt-water-boiling-tips-the-food-lab.html)
In a separate heavy bottomed pan, melt butter over medium heat and whisk in flour to make a light roux
Cook the roux for 3 minutes, stirring or whisking constantly to avoid scorching.  The longer the roux cooks, the less thickening power it has – we are looking for a light golden colored roux to slightly thicken the sauce.
Slowly whisk in milk, continuously whisking to avoid lumps.
Allow sauce to come to a boil and cook for one minute to achieve full thickening ability.  You've just made one of the 5 French mother sauces, Béchamel!  This should be a light béchamel, slightly thicker than pancake batter
Lower the heat to low and add velveeta to the sauce, stirring frequently to melt, approximately 3 to 5 minutes.
Once velveeta is melted add 1/2 (4 ounces) of shredded cheddar cheese to the sauce and again stir to melt.  You've now (sorta) made a Mornay sauce, a variation on the béchamel!
Add can of drained rotel chiles to the sauce
Add nutmeg to the sauce and season to taste with salt and white pepper.  Remove sauce from the heat
Boil pasta to just shy of al-dente.  Typically I cook for 75% of the recommended cook time on the box.  Remember the pasta will continue to cook in the oven, so avoid overcooking in water to avoid limp noodles
Grease a 9"x13″ glass, enamel or metal baking dish with softened butter.  Be sure to grease all corners well
Drain the pasta well, and gently add and mix into the sauce.  Please don't rinse the pasta, or add oil.  Thank you.
Pour the pasta/sauce mixture into the baking dish
Top with remaining shredded cheddar cheese
Top with crushed tortilla chips
Season the top of the casserole lightly with chili powder and/or cayenne (to your discretion based on desired spiciness)
Cover the pan with aluminum foil and bake for 35-45 minutes.  Remove the foil after 20 minutes to allow for some browning to the top of the casserole
Remove from the oven and allow to rest at room temperature for 10-15 minutes.
In case you wanted to see the brisket…