While food always seems to be on everyone's mind and everyone is always trying to get me to reveal my #1 favorite restaurant in New York (what a joke of a question!), there is that other dining category of the "tasting menu." Daniel, Jean Georges, Per Se, Del Posto, Eleven Madison Park, Sushi Nakazawa, Sushi Zo. There sure is no shortage of those spendy restaurants here. So if you are going to drop close to 1K for you and a plus one in one night, maybe 3 hours tops, where should you invest your "pocket change," eh? Well I finally went all in and treated myself along with one of my favorite guys (to be clear we each treated ourselves) for an evening at the classic Eric Ripert's Three Michelin Starred, Le Bernardin, up in Midtown. I knew everything about this chef, I knew this was a special place, I knew it was all seafood focused which is why I chose to spend my dollars on this tasting menus out of all the others, but what I didn't know was what items were a mandatory order or what the dining room even looked like. Of course, you don't see these dishes on your favorite food Instagrammer's feeds and you don't see your friends taking photos of the dining room on a regular basis. Therefore, Mike and I went into this dining experience blind, but we ended up in a peaceful and delicious sanctuary.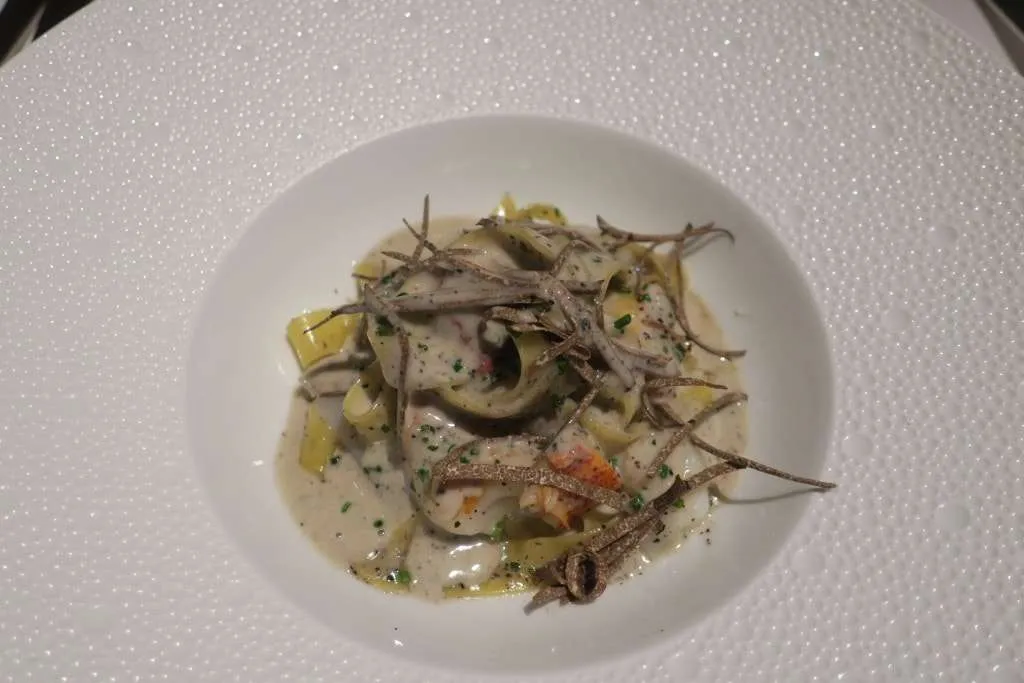 Seafood Truffle Pasta
It was just any old Tuesday, again everyone here is either celebrating a special birthday or anniversary, but decided to celebrate New York City and the amazing food scene we luckily are surrounded by. The dining room shocked me by its size. It's very spacious with thin blinds covering the windows which still allow some sunlight to shine through. The best tables are the outside booths so that you do have the option to sit by your date and steal food off their plate if you wish. So the least expensive prix-fixe menu is four-courses for $147. The menu allows you to choose from Raw, Barely Touched, Lightly Cooked, and then Dessert. The larger tasting menu is already set with options, so this is a fun way to try your own choice of samplings from the menu but if you have a hard time with decisions, I must say this menu is absolutely perfect for a seafood lover so you might be better off handing the choice to French Chef Ripert. 
Before we get into the dishes, I must rave about the bread basket or I might as well say bread box because a nice gentleman is carrying around an enormous amount of roll and bread options. When this guy caught my eye, I knew the games were about to begin. Think pretzel roll, sun-dried tomato, basil, and some seedy, quinoa roll that shocked me as my favorite out of them all. Yes, we got six different rolls between the two of us. They said they insisted… In addition, the amuse bouche consisted of a crab soup with a dab of avocado and pureed potato, a piece of flue with an amazing soy flavoring, and a fun hamachi wrapped in rice paper. It's the only amuse bouche I think I've ever had where I would be satisfied with ordering it myself.
On to the four-courses. We got the Raw Hamachi which is flash marinated with young radishes, amaranth crisp, and yuzu vinaigrette. I am impressed with the portion sizes here. It's pretty equivalent to Gramercy Tavern though which is my only other favorite tasting menu in the city. The Hamachi was a pretty large piece, a little thicker in some areas than others and light as can be. This is an easy way to break into the courses. Next time, I'd choose the Salmon Sashimi with olive lemon-mustard emulsion and focaccia crisp because the rich orange coloring took my breath away. SWOONING begins.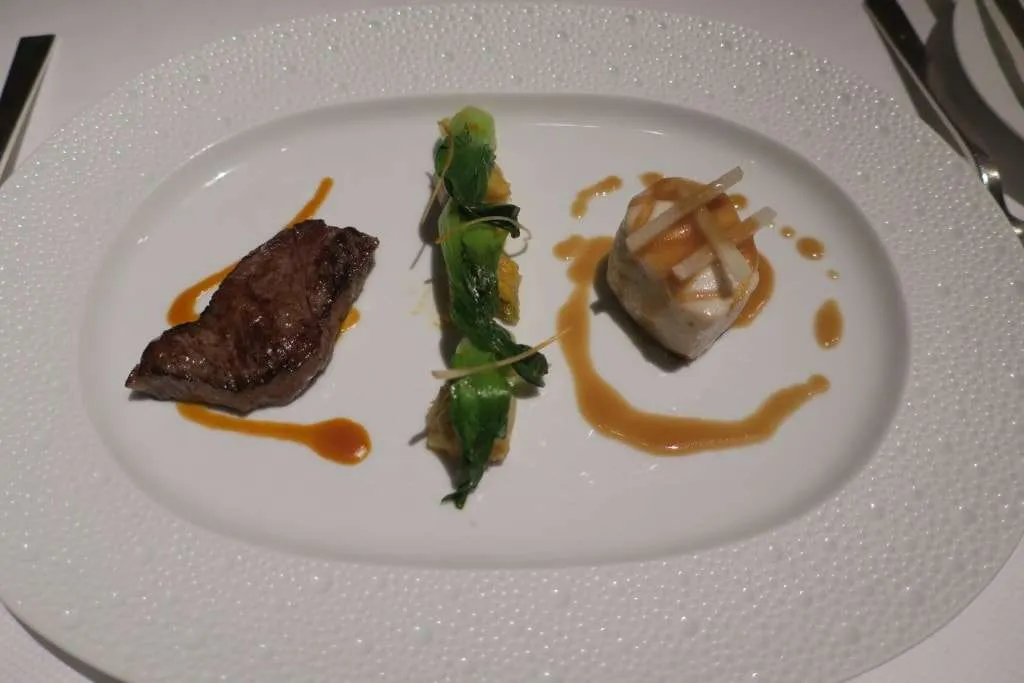 White Tuna + Wagyu
Our knowledgeable waiter named Renaldo has worked at Le Bernardin for 20 years (of course, I asked because this guy knew his stuff!) He insisted that we order the Seafood Truffle Pasta with Crab, Scallop, Lobster and a Black Truffle Emulsion. There was no way I was going to give up my order of Lobster Tail here, so selfishly I urged Mike to follow Renaldo's lead. Just kidding, we shared both! We were both hesitant to try the one dish that was pasta, but you know what this bowl was one of the biggest highlights from the night. Seriously though, when is Eric Ripert opening a casual pasta palace here? It was the perfect amount for us to share, enjoy each rich bite, while also providing enough seafood for both of us. Full disclosure- I REALLY got after this dish. It's almost like it was light and rich at the same time, or maybe that's just because it was a normal sized portion and not like other Italian restaurants that have 3 portions on one plate. The Lobster Tail with Her Spring Rolls and Lemongrass Consumme had a gorgeous and one of a kind presentation. Lemongrass is one of my favorite flavors and dipping lobster in it can't get any better. Other offerings in the Barely Touched section include: Octopus, Barely Cooked Scallop, Ultra Rare Sea Trout, Crab Filled Calamari.
On another note, Le Bernardin really questioned my culinary knowledge. I have 600 reviews here on Chekmark Eats, but never have I been challenged by a menu as much as I have here. This was awesome! While we did have to ask Renaldo one too many questions, we learned while dining. My favorite question had to have been about the Sea Trout which said "Ultra Rare Smoked Sea Trout" in the description. Did this mean the trout is a true rarity and hard to find or did it just mean it was a rare preparation? We had to find out ya know?
The Lightly Cooked section is your entree style course. Choosing between Dover Sole, Black Bass Surf & Turf, Baked Striped Bass with Baby Leeks, and a Snapper, we ended up with the Halibut and White Tuna-Japanese Wagyu. The Halibut is served with Manila Clams, Mushrooms, Carrots and finished off with a light broth poured table side. The White Tuna with fresh kimchi and a soy citrus emulsion might have been my favorite bite of the night. I've never had a White Tuna like this and with this being my favorite type of fish, it has ruined my chances of ever finding another tuna dish as satisfying. Super cool piece of fish though!
There was no chance on my dessert ordering game. I immediately chose the warm chocolate cake filled with oozy chocolate and paired with figs and a homemade spiced chocolate ice cream. I tried to switch out the ice cream to try one of my favorite flavors dulce de leche. I don't know why I thought Renaldo would let me get away with it, but what he did do was bring me a scoop of the dulce de leche on the side. He knows the way to my heart! The Strawberry Rhubarb Bombe that explodes with just the tap of the spoon is a must for the non chocolate lover. Man, they really do everything here! Chef was kind enough to let us visit the kitchen and say hello to him. He's there most nights if not every night. A true chef. I love Le Bernardin, and this is what makes New York so much fun and meaningful when you can experience something like this every once in a while and feel like A.) You've earned it and B.) it was worth it. #TreatYourself