Everyone's favorite Mexican Happy Hour restaurant Fonda quietly just opened a new outpost in Chelsea. $5 wine and beer and $8 Botanas (guacamole, flautas, quesadillas, tostadas, etc.) every day from 4 p.m. – 7 p.m. can trump most deals in the city. While guacamole is a pretty standard order at most Latin restaurants, this is one that really stood out to me and made me take another look into the massive bowl. The prominent avocado chunks here are intense and fit perfectly on each salted chip vehicle. They use serrano peppers instead of jalapeños to spice it up which adds height to the flavor and makes this one of the most memorable guacs I've had. The Taquitos are not like the taquitos you usually think of rolled up and fried. At Fonda, it's basically a soft taco. The Carne Asada is marinated kirty steak with onions cilantro and chile de arbol salsa. It's a great little snack to pop in your mouth before entrees arrive and each little taco fits right in your hand.
Carne Taquitos For other carby appetizers you can pick up the Flautas de Pollo, Toastadas De Carne, Melted Cheese with Chorizo and even a Black Bean Masa "Boat." I skipped the salads because there are too many other unique dishes to salivate over and choose from so don't waste time here. The main dish that immediately caught my eye, Shrimp and Scallops over hazelnut chipotle turned out to obviously be my favorite. When Mexican flavors work with seafood, it's truly a relief. The diver scallops are so tender and seared that I was convinced they were raw for a second, but in a good way of course. It's very rare for scallops to melt right as they hit your tongue but somehow chef creates this feeling. The Pollo Norteno was a little different than I expected. It's topped with melted cheese and served in a skillet with a side of tortillas that are definitely keepers. The chicken isn't as exciting with just your fork, so be sure to load up that tortilla with the mixture.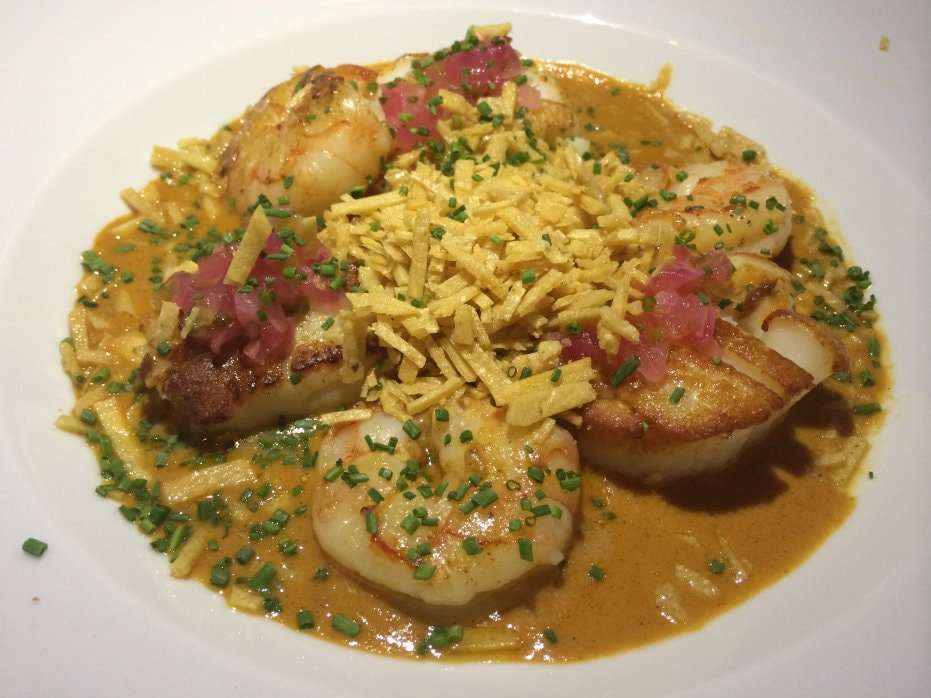 Shrimp and Scallops The bar downstairs attracts a busy crowd right after work, but the calmer dining room upstairs makes for an ideal casual dinner. The windows offer peaceful lighting and the deep red colors and colorful flags hanging from the ceiling emit that Mexican-themed vibe. I love the cowboy boot photo on the back wall next to the windows. The dinner crowd rolls in around 8 p.m. adding to the mood. The scene includes dates for two, big groups downing bowls of guacamole and margs and friends who are just looking for a place to grab dinner in the neighborhood.
Pollo Norteno