If you haven't stepped into the oh, so tiny and quaint restaurant Buvette in the West Village, then you are missing a little bit of Paris right here in New York City. The dainty tables, delicate menu,  and miniature plates offer some tender love and cooking out of that kitchen. The chef Jody Williams is one you can absolutely trust and eat anything with your eyes closed (she is also a partner in Via Carota down the block). The too good to be true menu is full of fresh ingredients and vegetables, and simultaneously, offers comforting dishes with smaller portions but just the right amount for tasting, sharing, and keeping your stomach satiated.
Start with the tartinettes aka loaded toasts that come with two pieces each. Three or four can share these if you cut them in half and order a few. My absolute favorite is the Ratatouille with chevre & pistou. This flavorful beast whets your palette and starts the French journey off to an exciting ride. The crunchy bread beneath a layer of soft goat cheese and stewed vegetables is a deal closer. We tried the Pisout de Noix with walnut pesto, parmesan, and thyme, but the Ratatouille outshined it completely. On to the House Salt Cod with olive Oil, Milk, and Garlic. Served in a clear jar with toast, this is easy to share and a good in between next course kind of cleanser. The Octopus Salad with Celery and Olives offers a ton of seafood and it actually seems too big for the plate as are most dishes here. It's almost like you are having a little tea party with snacks because they use such small plates. It makes you feel skinny, and provides a fun atmosphere because you can try so many items on the menu without feeling like an animal.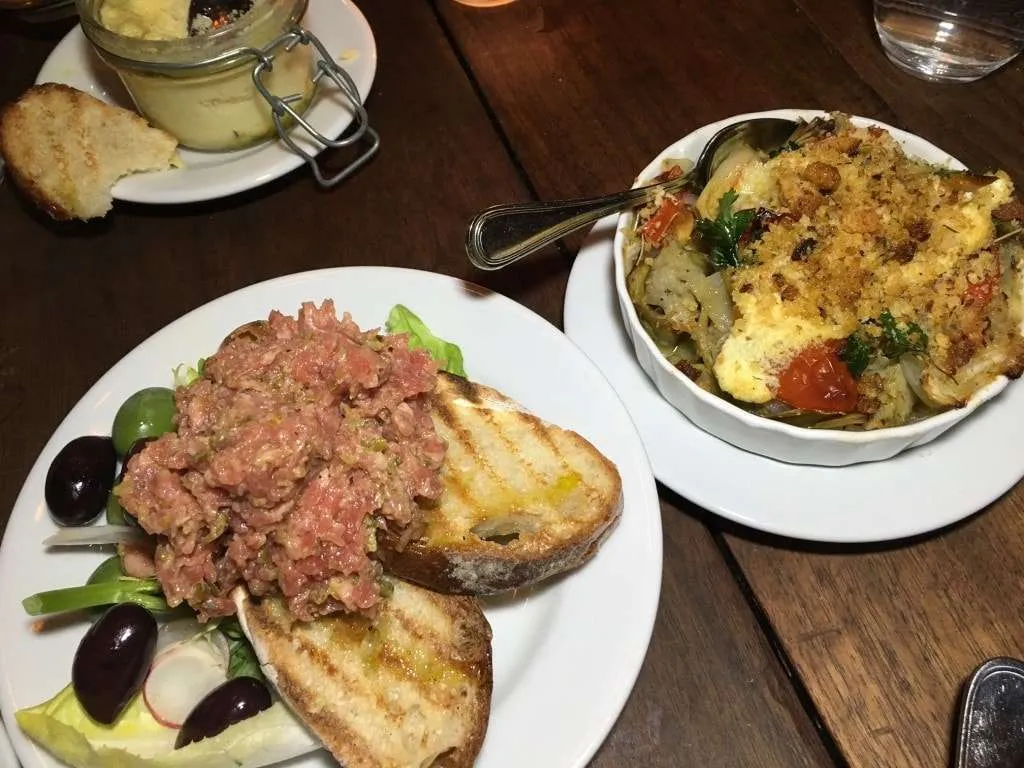 Steak Tartar and Artichokes
In the Vegetable category, skip the plain julienned carrots, and strive for the unreal and tender Artichokes with Tomatoes and Thyme. I might have taken more than my fair share here, but the breadcrumbs mixed with the piping hot and soft vegetable could almost beat out a mac 'n cheese dish. You're at a French spot so you obviously can't sleep on the Steak Tartare. This one is chopped beef with cornichons and capers and this spice will sure clear anything that's stuck up there. It's the right amount of flavor and probably one of the only tartares that really stands out from all the rest including steak houses. Last but not least, you must try the Rabbit Braised with Dijon Mustard. It's pretty creamy, but you don't get rabbit like this anywhere or most places. It falls off the bone and is a rich way to end the meal…until you end the night with the BEST chocolate mousse I've ever had. Not kidding. I actually don't even love mousse because it can be too fluffy, but this 'ole guy is more like a thick ganache that you just keep attacking over and over again even though you are so full.
All in all, no need to feel guilty about overeating here. At least you saved a trip to Paris…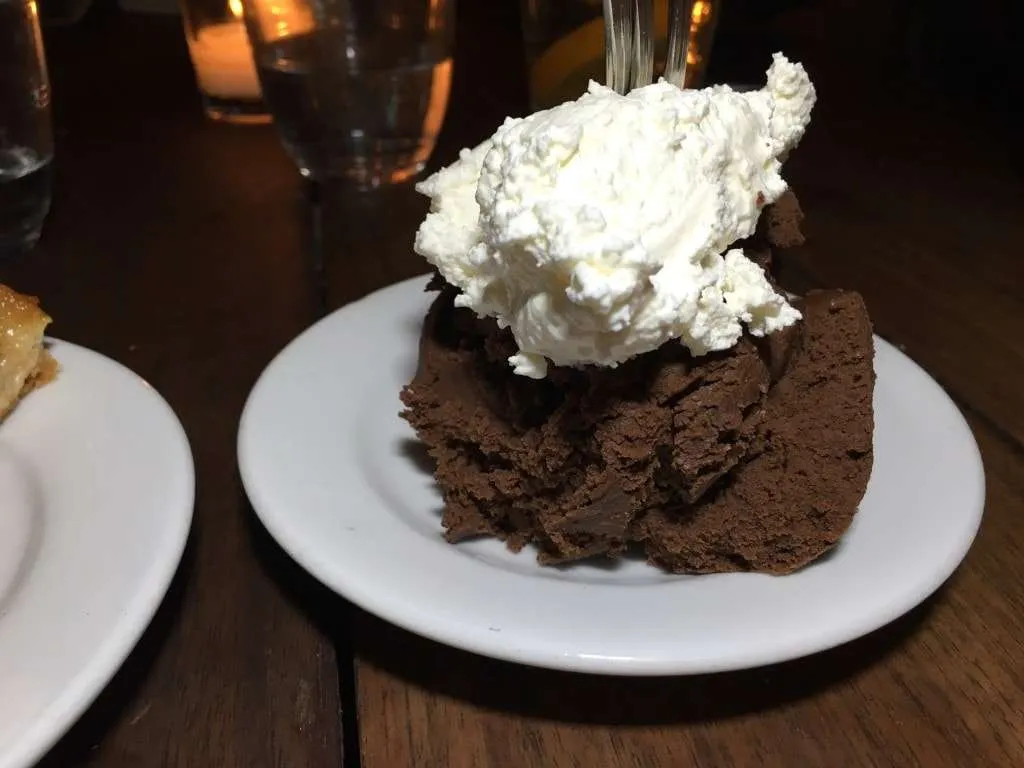 Chocolate Mousse