The Cleveland has gone through quite a few changes but now the chef de cuisine from Roberta's intercepted the reigns and focusing on a produce driven menu. The restaurant couldn't be more chill if it tried. Visiting on a Saturday night is simple and hassle free. We had a reservation but you can easily stroll on in and grab yourself a quaint little table. Also pretty bomb is their garden outback which is open on nice days. Yes, you need an outdoor garden visit to cuddle up with these days especially as the weather is getting nicer. The menu strikes me as one of those that I keep looking up and down and can't find a final answer. There are ingredients hiding behind each other that you might not always see paired together and a lot of Mediterranean influences stand out.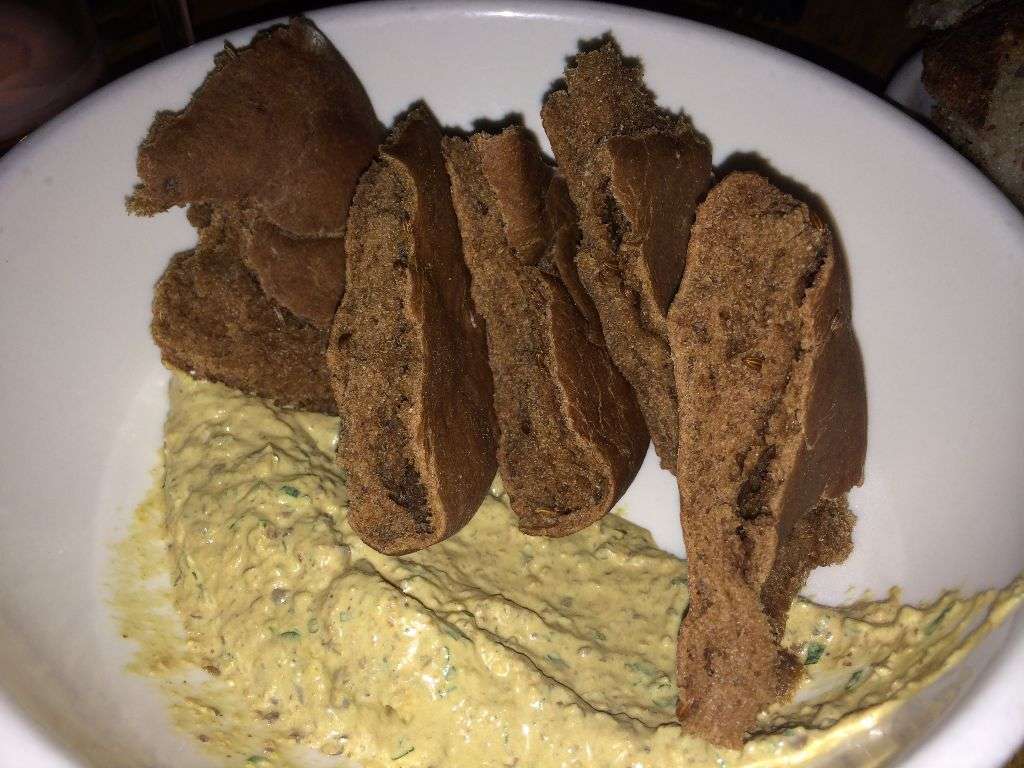 Pumpernickel Pita
The Pumpernickel Pita with lentil-pistachio spread offers the fluffiest and warmest bread in a bowl. It's a great starter and only 8 bucks so there is no reason to forgo it. However, the Crispy Duck Pastry is a wild card. You have no idea what's coming your way until it's placed directly in front of your face, and the good news is that you will love it. This dish provides two pastry wrapped, duck sausage filled rectangles with a plate dusted with spicy cilantro-pecan pesto and cucumbers. You can't find something like this just anywhere. It almost reminded me of ground beef tacos, but still better. Order this appetizer or if you aren't that hungry I'm sure you could manage it for your entree.
Crispy Duck Pastry
Out of all the entrees, the chicken seems to be winning the most raves, but I think the Bavette Steak takes the cake. Medium rare pre-cut with some spicy peppers equals plain and done just right. I wasn't obsessed with the flavoring on the chicken as there was a lot going on as I prefer juicier and cleaner. Too much was popping off that plate all together but I did love the cabbage underneath and sagamité, which is a type of hominy. Beware, certain ladies, those of you that can't handle it, this bird comes with the claw on the plate. The Beer-Brined Cod is a cute take on "Fish 'n Chips" and served with fried yucca, apple relish and charred grapefruit.
Steak
The Cleveland is a restaurant made for those looking to pop into an easy going restaurant any night of the week where they won't be bothered by people bumping into your chair, get in the way of a hustle and bustle or be rushed out the door. You come here to enjoy company, relax and taste some out of the ordinary yet familiar food.