New York never ceases to amaze or surprise me. Sure you get used to all the crazies, wild outfits and movie sets, but somehow, the novelty of New York and what these wild people come up with still shocks me everyday after five years. This year the team behind Sleep No More, added a new thrilling "dinner and a show" concept which was basically live, interactive theater with alcohol and lobsters served in birdcages. It's called Queen of the Night and at the Paramount Hotel right in the heart of the theaters. The fun thing about Queen of the Night is you can hear endless things about it from your friends, read reviews and see videos, but when you arrive it's still unclear what you signed up for, what you're going to see and I guarantee not one person will have the exact same experience. Gala tickets aka General Admission tickets are $150 per person which includes: a fruity gin welcome drink that you'll suck down in seconds, dinner, carafe of wine at dinner and essentially tip and tax. Don't worry you can purchase more drinks at the cash bar or from your waitress once dinner begins. Pricier ticket options include Premium ($190) and Ultimate ($390) which both include extra drinks, a more private seating area, extra food and whatnot.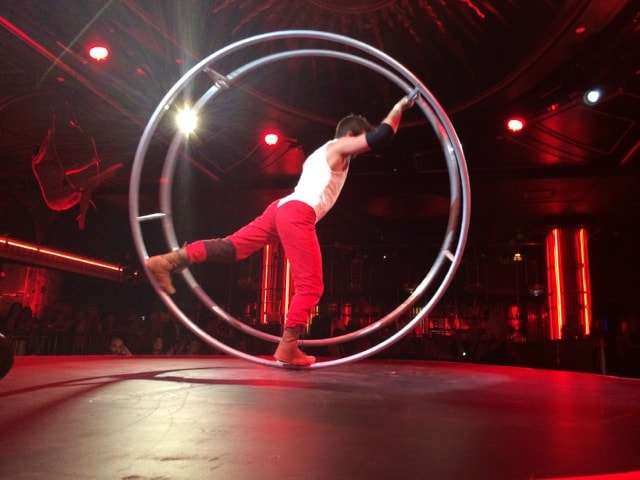 Now as you step into the Queen's lair, you walk down a flight of stairs and the confusion erupts. The "guard" halts you and only allows random people to walk down into the main room unless one of the other actors (if you will or show stars) pulls you out of line and lures you his way. Once you are led in, you can look through several rooms at different weird objects, in drawers (you mind find a seashell) and really who knows what you are looking at but somehow you think it's cool. You might get picked out of the crowd to go into another room by yourself with these people and who knows what they will ask you to do. That's up to you to find out as I don't want to ruin it OR scare you. The moral of this part of the party is to say "yes." Or you can ditch the scene and head to the bar to booze yourself up. While we were waiting for the show tonight one of the cast members came up to me to ask what my favorite sexual fantasy was which was well uncomfortable but you know what it's good to be uncomfortable and caught off guard and then she became our friend throughout the show and kept lurking around our table once seated making us feel a little popular. I was then handed a note that said "Find Rune (he wears short shorts) and ask about his kitties." Stay tuned on this. Or I won't spoil it and you can go and find him yourself…
Ribs, Bone Marrow, Potatoes
The music starts to erupt while the queen is posted up on the center stage. All the actors start running around like animals and then you realize they are setting up tables on the floor for parties to rush and grab a seat. It's pretty easy to get seated together if you are in a large group. Try to sit near the center stage and towards the front- you'll feel like all the action is around you and you can see everything. Before you know it, people are flying out from under the queens long skirt, acrobats are flipping in the air, hoola hoopers are dancing on your dinner tables before your eyes and a handsome fellow with a whip is prancing around. Oh and don't forget the guy balancing a chair on his chin. Everyone is decked out in heavy eyeliner and the women have fancy-ish costumes. The queens glitzy dress is gorgeous.
My party of 4 ended up seated with a group of men in town from Australia for the first time and boy did we live it up together. We had a blast meeting new people, learning about them and enjoying extra carafes of wine together. One was even a designer for Restoration Hardware and another girl worked at Rose Bar, so who knows who you'll meet when thrown together at a table of strangers. The dinner came out as if we were barbarians. Stale bread and butter thrown directly on the table followed by a huge hunk of ribs that we had to separate ourselves to "survive." The staff encourages you to share entrees and barter with other tables because some receive a Whole Roasted Pig or Lobsters in Cages. Who would have thought you'd be breaking lobster tails with your bare hands? It's animalistic I tell you and part of the fun! Everything is a show here, remember. Our short ribs were the best entree so definitely reach for these. We also got potatoes au gratin and a kale salad.
After dinner the show continues with a sword throwing session, professional yo-yoer, leaper and jumper through hoops and over audience members on stage and just about anything you can think of. Make friends with the host and maybe you'll score yourself a round of tequila. Again the moral of the night is just say yes. Especially at the finale of the party when the strong men post up on the stage with a bowl full of hazelnut chocolate cake and feed you by hand. Honestly, it may not be the best chocolate cake I've ever had, but at this point I wasn't going to judge. Just indulge.
Queen of the Night is simply a metaphor for living in New York City. You never know what you're going to see, what you're getting yourself into or who you'll meet and you'll always be surrounded by incredible food and booze. Just say "yes."