Martha, not to be confused with Danny Meyer's recent pizza jackpot MarTa, is a stellar restaurant in Brooklyn with a chef/owner who has a background working at the French Laundry and one who truly loves his Asian ingredients and flavors. The restaurant, located in Fort Greene, feels like a combination of a bar and a cute coffee shop. It's pretty small and has an adorable love seat window situation by the entrance to squeeze into. The jovial hip hop, rap music, on the other hand, is not expected and makes it all the more intriguing and unpredictable. The menu had my mouth-watering upon first glance, and not because of the popular Fried Chicken, but because of the list of five creatively dressed vegetable dishes such as a Chinese Broccoli with Black Vinegar and Garlic Chips. The Brussels Sprouts are killer – sweet and spicy just as they should be with Nuoc Mam, Peanuts and Pickled Jalapeño. We attacked them. As if I couldn't enjoy the flavors anymore including the Thai Eggplant with Nam Pla Prik, Hard Boiled Egg and Basil, Martha delighted me with the skillet presentation keeping them hot and crispy. Skillet veggies, skillet eggs, skillet mac 'n cheese, whatever it is, it's always undefeated if it's served in that deep black pan. I will say, the Cauliflower with Lime-Chile Soy Sauce, Peanuts and Scallions looked like it would have triumphed the eggplant, so do try that one.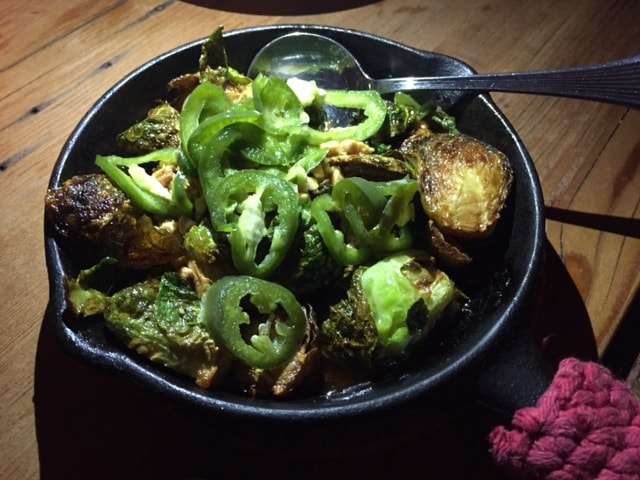 Brussels Sprouts
We tested out the Swordfish Poke which is a dish usually made with tuna, so I thought it was cool that the chef went out on a limb. The soy sauce flavor with sesame, chiles, nori, cucumber and fried shallots is a typical Poke dish, and he successfully made the swordfish tender and it worked here. The Fried Chicken has a gorgeous presentation with four deep fried pieces placed side by side upon a black plate with scallions and TSO glaze. The skin is extremely crunchy (not flaky) like some others out there. Beware of the Beef Short Rib, it's more like a slices of your grandmother's brisket with too much gravy than the flaky short ribs you might be used to seeing.
While I loved every dish separately, at the end, I felt like there was too much of the same flavoring on each dish. I felt like I had drank a whole bottle of soy sauce as the Asian flavors seemed to run together too heavily. That being said, I'd still highly recommend it and run back to try the other vegetable dishes, Pork Belly Bao buns and the Whole Trout.