Ice cream is hands down in my top three favorite foods. It's no secret that I eat it for dinner as my entree at least twice a week in the summer (not including a few after real dinner spontaneous licks). When I don't venture out to an actual ice cream shop, I'm standing hand in hand with my Talenti Sea Salt Caramel jar eating it right out of the can just like the Wall Street Journal suggests. I'm game for anything with salted caramel,  cookie chunks, fudge and some peanut butter. Ice Cream: it's what makes the people happy. See below for my favorite ice cream concoctions in New York City.
Ample Hills Creamery  (Brooklyn)– This Brooklyn based shop can hold up a line for 45 min in the summertime. They might be known for their "Salted Crack Caramel" flavor, but  I am more fond of their "The Way The Cookie Crumbles" which is vanilla with chocolate chip cookies and dark chocolate fudge brownie bites that melt right in with the frozen treat. They have pretzel cones, chocolate chip cookie cones and all kinds of dreamy sundaes and build your own as well. They also just opened a second location in Gowanus that even has a roof deck – sounds like the best birthday idea ever.
Davey's Ice Cream (East Village) – Davey's Ice Cream has got some real personality to it, and a big yellow smiley face as its logo. You can see the ice cream being made in the back and there are a few stools and tables in the back where you can sit down to enjoy your cone, sundae or cup. You'll eye the large scoops covered in rainbow sprinkles that everyone walks out with on a cone. It's safe to say I've never had a better Cookies 'n Cream, and it's the closest to Blue Bell's Cookie's 'n Cream I've ever had. The enormous chunks of cookies are endless and much appreciated as you do not get gipped in this department. Go for this and if you're feeling extra lucky get it tucked into a chocolate chip ice cream sandwich.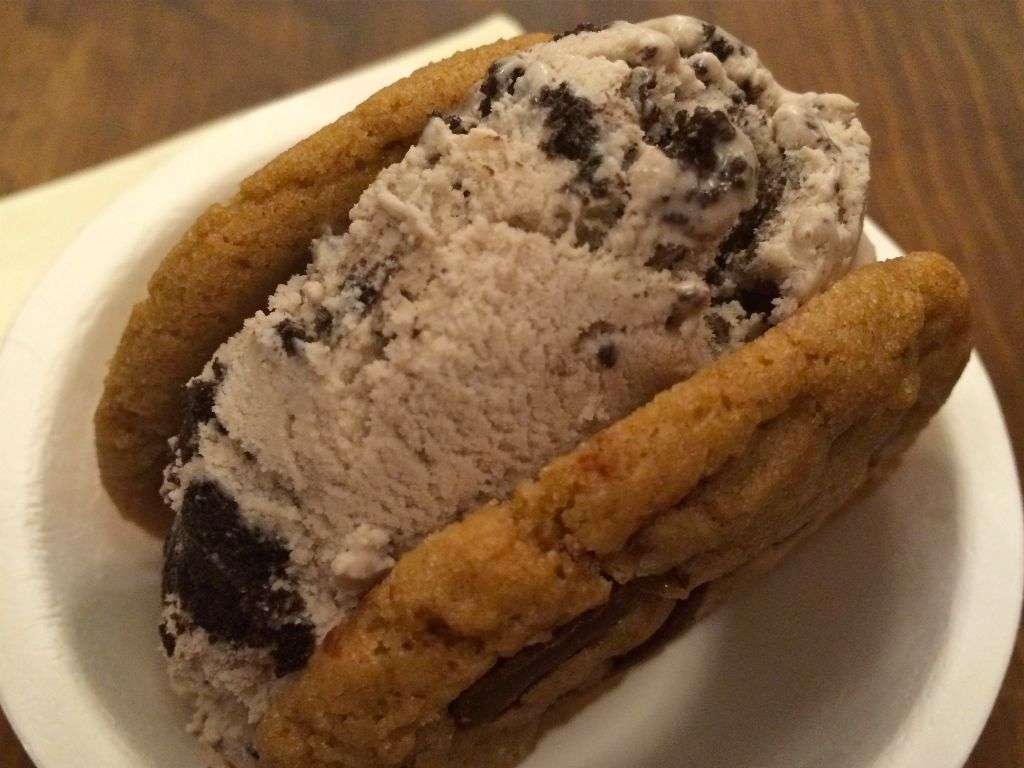 Cookies 'n Cream Chocolate Chip Ice Cream Sandwich at Davey's Ice Cream
Morgenstern's Finest Ice Cream (Lower East Side) – If you follow me on Instagram, you know this place owns my heart. Nothing beats their light tasting, perfectly cold yet not too creamy Salted Caramel and Salted Pretzel Caramel. I really do love that Coconut Sorbet, too. The lines can apparently be long, but this really hits the spot more than most.
Nicoletta (East Village)- This pizza shop owned by the famous Chef Michael White has a soft serve gelato sundae menu hidden up its sleeve. Don't come here just when you want pizza, come here just to get the ice cream! It comes in their cute drinking glass cups. Order the Peanut Butter Cup which is peanut butter crumbles that are almost airy, chocolate sauce and chocolate chunks. The gelato is like a better version of Dairy Queen's soft serve. Or you can build your own with toppings such as: salted rum caramel sauce, blueberry limoncello, fruity pebbles treats, amaretti cookie crumble, strawberry jam, etc.
Brooklyn Farmacy & Soda Fountain (Brooklyn) – Nothing better than an old school soda fountain with grilled cheese sandwiches, ice cream floats, egg creams, milkshakes and sundaes. Go for the Sir Twixalot with vanilla ice cream, hard chocolate shell, shortcake and caramel sauce. Finish that bowl off while you sing to old school tunes in your seat like "Run Around Sue" and "Do Wah Diddy."
Pieces of Cake and Panda Paws at Williamsburg Creamery
Williamsburg Creamery (Williamsburg) – Now this was a total accident. While Bedford is the main street in Williamsburg and you know those staple spots like Sweet Chick, The Meatball Shop and Catbird, you might overlook all the other random shops and falafel restaurants, but let met tell you, do not pass up Williamsburg Creamery. From the outside it looks like a standard ice cream shop or a small Baskin Robbins with normal flavors, but no, you are wrong. Think Popcorn, Cherry, Top Shelf, Cannoli, Brownie Blast, Cotton Candy. The best is the "Piece of Cake." It's a likeable version of Cake Batter that doesn't make you feel sick after eating it and has chunks of pound cake and chocolate. Definitely one of the best flavors I've had all summer. They Panda Paws is Vanilla with chocolate swirl and chocolate peanut butter bites. Get two kids scoops as they don't do half scoops.
Hay Rosie (Brooklyn) – If it weren't getting so (rightfully) popular, you'd walk by Hay Rosie, Brooklyn's newest, and perhaps most inventive new ice cream shop. The tiny Carroll Gardens storefront has room for about six people to wait and order ice cream, a couple of friendly, helpful scoopers, a modest ice cream lab and a handful of supremely delicious flavors of ice cream. Specifically, we're talking about brownie brickle crunch, chocolate malt with honeyed peanut butter, blueberry citrus biscuit (the biscuit chunks don't freeze over!), or if you need a jolt, how about some caramel-infused coffee with homemade whipped cream and CHUNKS OF DOUGH'S CAFE AU LAIT'S DOUGHNUTS ON TOP. As if this weren't enough, they're starting to melt the hearts and brains of their happy customers by offering what they call a "barnburner," which is essentially an ice cream sandwich, but instead of cookies, they use hot cookie dough to contain the ice cream, via a slam of dough being flash heated in a waffle iron. Cookie. Dough. In. A. Waffle. Iron (Hay Rosie opinions are from my good friend/dining partner in crime Dan Rubenstein)