Sway is a newish, Modern Thai restaurant that opened in Austin earlier this year. With all the rage of the trendy, tasty and Thai small-plates that have hit the ground running in New York City (especially the craveable Uncle Boons), I had to try this restaurant when I came back to visit. We sat outside on the patio on a cute picnic table that was perfect for our large group of 8. It's a very sweet atmosphere with strings of lights hanging above head and brings you back down to earth with the gravel ground and fence separating you from the busy street. For a more romantic experience or with a smaller group, I'd recommend sitting inside where it's a bit sleeker and dimmer lighting. However, if you go with a big group you can order almost everything on the menu, and that you will not regret.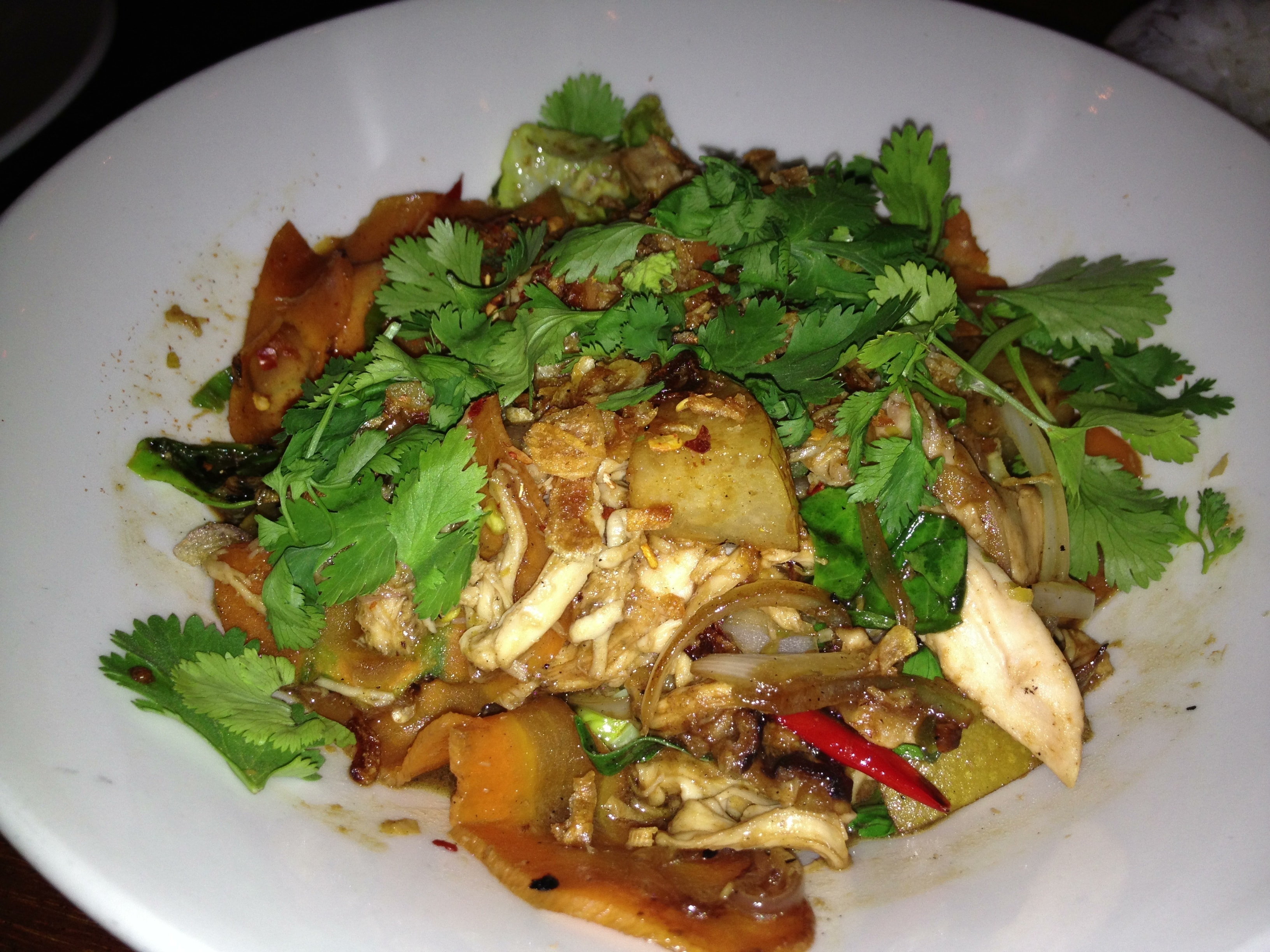 First off, this place is off the hook. The menu is insane and every dish is right on track and absolutely incredible. The only problem was how fast all of the dishes shot out of the kitchen and how many mouths it was feeding so dishes were getting lost and ending quickly that I couldn't necessarily savor each bite because I was keeping an eye on what was about to disappear. Sorry for being obsessed. The flavors encompassed your spicy, sweet, tangy and savory flavors. I couldn't get enough of Sway and I would pick this as my new favorite restaurant in Austin over any Tex-Mex spot.
Due to the speed of the dinner, I'm not sure what was what during the moment because everything was so delicious and mind boggling that I was just in shock how good this restaurant was. The most memorable and best dishes are: Pad Kwetio with Wild Rice Noodles, Pork Belly, Chinese Broccoli, Tofu, Black Wok Water; Jungle Curry with Texas Wafyu Beef, Red Chili, Baby Corn, Eggplant, Peppercorns, Coconut Cream; Crispy Whole Red Snapper with Coconut Cream and Son in Law which is a Crispy Farm Egg, Braised Pork Shoulder, Thick Soy and Chili Vinegar. The Son and Law and Jungle Curry were definitely the best meat dishes. The Son in Law caters to the sweet palate and the Jungle Curry caters to the spicy. The Whole Fish is a gorgeous display with a bit of coconut cream and a lot of meat surfing around inside. Do not be afraid to scavenge around the head for some last minute bites. This feeds a lot!
The only dish to skip is the Blue Crab Fried Rice which sounds incredible and something you wouldn't be able to get enough of, but compared to everything else it just doesn't have the flavor and isn't worth it. Most of the dishes are served with sticky rice anyway so you can get your rice fix there and soak it up with some of the sauce. The Green Beans are also a great side for a veggie option. I do not usually go for desserts at Thai or Japanese restaurants but who passes up a banana split with Cashew Caramel Swirl Ice Cream, Brownie, Coconut Milk Jam and more? It was definitely over the top and sent us away with a memorable experience. I always make a point to visit my favorite Tex-Mex spots when in Austin and clearly, they have now been replaced. Do not miss this!
I. Love. Sway.