Bagels. Bagels. Bagels. A New York iconic breakfast treat that locals eat daily for breakfast or weekly for hangover remedies. The Major Food Group is back and this time they have brought their creative touch to the old school New York Jewish style restaurant. I wouldn't call it a deli by any means as they don't do sky-high meat sandwiches, but they do present gorgeous, layered trays of lox, whitefish salad, and all the fixings for appetizing. Make sure to note that Sadelle's is not open for dinner so you can swing by for lunch during the week to grab a table or make a reservation on the weekend. We snuck in without a reservation on a Saturday before 11 a.m., but if you think you're going to snag a table after noon, you are crazy. You can, however, wait in line at the counter for a bagel sandwich and the nice men in traditional white lab coats will cut you some sturgeon or smoked salmon for your bagel. Do not snooze on those baked goods either. You can sacrifice one meal for both sweet and savory carbs at once. The Gooey/Sticky Bun steals the show. It's almost like a melted toffee bread that's the same texture as a cinnamon roll. It's to die for. The Chocolate Babka is coated in chocolate on the outside but somehow when a slice was split between three, I missed out on this extra chocolate coating. As a matter of fact, I think it was a little on the dry side and not up to my overly chocolatey and gooey standards like Russ & Daughters or Breads.
The seating at Sadelle's is a delight just like all of their establishments (Santina, Dirty French, Carbone, Parm). It's a huge space for SoHo, and it feels and looks incredibly clean. Separating the downstairs from the upstairs is the machine that is making the bagels and you can see the staff putting this together. They scream "Hot Bagels" or something like this each time something is ready. The upstairs seating is a bit more private and it's nice because it overlooks the bottom half of the restaurant where you can see everyone waiting in line for their bagel to go. I got ahead of myself a little, but do make sure to order the Pastry Basket to start. It includes one Gooey Bun, a slice of Babka, Bear Claw which is my second favorite carb in this basket, Monkey Bread, and a Cheese Danish. It's the best option for sweet because if you just want babka you have to order an entire loaf and even I'm going to go ahead and say you don't need this AND bagels in one sitting. Major Food Group definitely has groupies and while the press documents every step they make which can get old, it's just still no secret why. Their presentations, creativity, and emotions you feel when dining at all of their spots is exactly what everyone desires. Plus the food is as great as can be. If you want the bagels and lox tower, you first pick which cut of fish you want: Smoked Salmon, Lox, Whitefish, Sable, Sturgeon, Salmon Salad. Then you can pick different kinds of bagels which are delivered on a wooden type pole that sits nicely on your table. The Salt Bagel is my favorite. I also like how these bagels aren't overflowing with excess amount of dough and bread and that you don't have to roll out of here after 1-2 bagels because of their smaller size. The dough is crunchy on the outside and just soft enough on the inside to call it a success. I liked the Whitefish Salad better than the House Salmon. I think it was a bit fattier than I prefer which is my fault and I should have ordered the Smoked Scottish Salmon fish instead. The bagel options include Cinnamon Raisin, Everything, Everything 2.0, Poppy, Onion, Gluten Free Everything, and the cream cheese options include: Vegetable, Plain, Chive.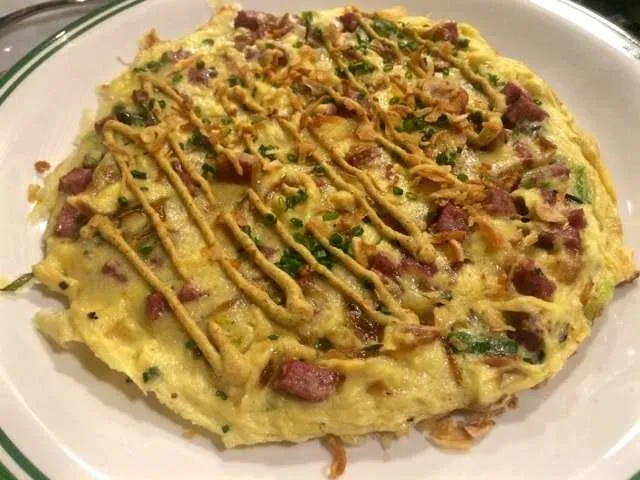 The Salami & Eggs is also a winner. Top it on a bagel and you're golden. Sadelle's is a pretty upscale Jewish breakfast spot. It's not super cheap, but it's worth the extra bills for the taste, service, and good vibes. Their salads are also pretty pleasing to the eye. With each ingredient laid out nicely in a line instead of all mixed up. Makes for some great Instagrams.