Peacefood Cafe is probably one of my favorite meals that I've had in a while and believe it or not it's vegan. However, it doesn't feel like some of those run down vegan cafes where you aren't sure where they got the ingredients or if it's safe enough to eat. The space is bright, clean and simple. There is a bakery counter directly when you enter for take out or baked good orders. The walls in the dining area are filled with printed artwork similar to those that you decorated your first dorm room with. The menu offers Salads, Vegetable Plates, Raw Lasagna, Sandwiches, Pizzas and Comfort Side Dishes like Baked Soy Nuggets, Vegetable Tempura, Dumplings and Tamale. All of the enticing choices are really a vegan/vegetarian lovers dream and it attacks all kinds of cuisines in one place.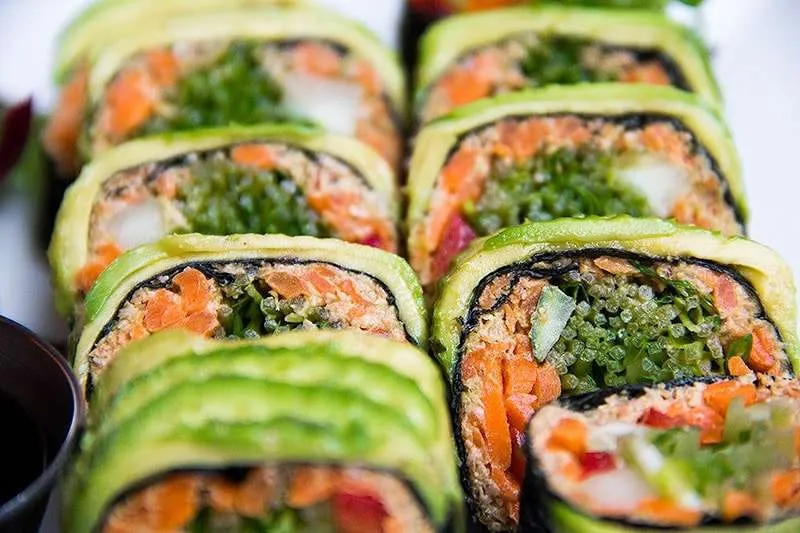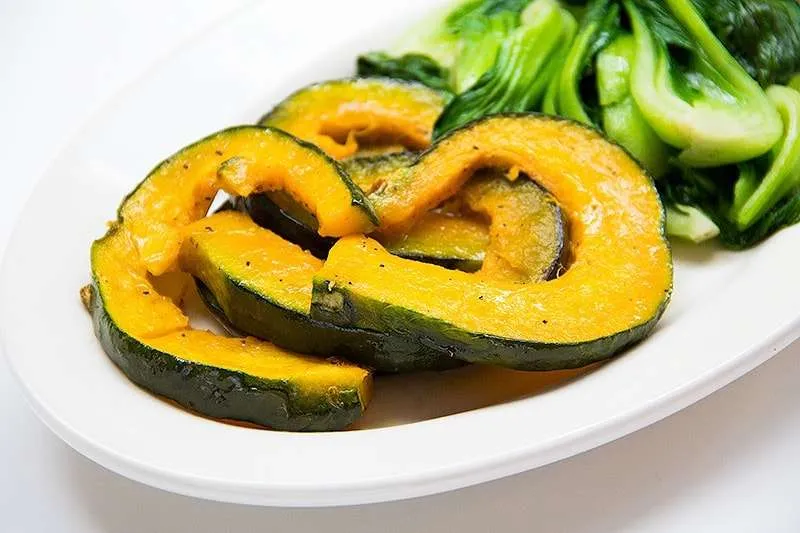 The Raw Sushi Roll is just as good as Candle 79's. It's made with Walnut Pate and Seasonal Vegetables and gives you the satisfaction as if you are eating sushi. The Roasted Japanese Pumpkin is my favorite vegetable on the veggie list. The Baby Bok Choy and Chinese Eggplant are very light and without much seasoning in a good way. While I was excited to try the Choyote Squash, this vehicle was not at all good or fun to eat. I thought it'd be more like a butternut or acorn squash, but it was a bit tough and even green! It looked like a honeydew. The Chickpea Fries are thick-cut and have some Indian spices and maybe some Mediterranean flavoring (4th pic). This will get those vegan haters to believe. My favorite thing I had all night was the special Green Thai Curry with Tofu, Assorted Vegetables, Broccoli, Butternut Squash, Curry, Coconut Milk, Brown Rice and Salad. I loved this just as much as my favorite curry dish at the popular Nolita Thai restaurant Uncle Boons- yes I said this. These two dishes are what turned me into Thai curry obsessed. The whole dish is filling, healthy, hearty and the vegetables are stellar. Get this for sure if it's available.
Photo Credit: Anna Malskaya
Oh and another thing. The vegan desserts are insane and a whole other bag of tricks to deal with. The Strawberry Shortcake is basically two amazing giant biscuits with a sprinkle of sugar and some strawberry cream smothered in between with fresh strawberries. The entire dessert case will haunt you because it all looks so irresistible. There are Cheesecakes, Tiramisu, Raw Keylime Pie, Cupcakes and a  Grasshopper Cookie Sandwich is as big as your face.
One thing that's great about Peacefood Cafe is that it's not a whole "to do" kind of situation. When you want to go out with friends for a delicious meal that isn't too difficult or strenuous, this place can dominate. You can walk right in, wear whatever you want, catch up and eat fuss free. With all of the celebrity chefs and famous restaurant groups constantly overpopulating the city streets and your list of "must go to" places growing and growing, sometimes you just want something stress free but with the same high quality of preparation. You can do that here and you can wear your 1999 Sketcher's and I Heart NY t-shirt your mom gave you when you moved to New York if you want and not even feel bad about it.