GG's might be known for its square, grandma pizza pies but don't let this fool you because the veggie game here along with the outrageous burger is the real reason to pop on over to this East Village hero. They also offer several pastas, so basically if you are a carb hoarder, you are going to have some trouble ordering here.The first time I visited during winter the root vegetable sides were roasted perfectly and a great app. Now the Salt Cod with potato puree with guajillo chili oil is a cute little bite to snack on while your stomach preps for the big stuff.
You might have already heard, but I'm confirming that the Pan Seared Burger with white cheddar, melted onions and secreto sauce could possibly now be the best burger in the city. The bun is nice and soft molding perfectly in your hand and to the meat. This medium rare baby couldn't be more juicy or tasty and you must not leave without it. The thick cut, salt fries are bomb, too. So you are afraid to order a burger and a giant pizza? Get. Over. It.
There are round pies, square pies and B.Y.O pies (build your own) so lots of 'za to choose from. I enjoyed the O.G. Grandma Pie with pepperoni, tomato sauce, mozzarella and basil. However, the newest pizza this spring, the Cosa Nostra with nduja, basil oil, lime and spicy radish is quite unlike any other pie I've tried. The spicy radish is prime and the basil oil is refreshing and delicious. The square pizzas are crunchy and crusty not soft or doughy.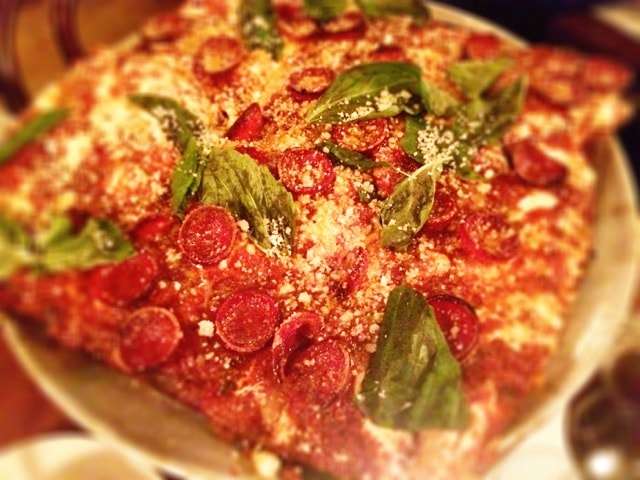 Luckily for us, the desserts are done by owner Nick Morgenstern aka the founder of some of the most amazing ice cream in the city. The Chocolate Ice Cream Cookie Sandwich made with cream flavored ice cream melts in your mouth faster than in your hand. The most magical part here is that somehow the cookies remain soft, chewy and perfectly in tact as a sandwich without being hardened from the ice cream or sliding off on your lap.
I've never had a problem walking in after work for a table for 2 or 4. Burgers, pizza, ice cream sandys- welcome to summer? Well, done Chef Bobby and Nick!