Never did I expect to say that Denver (a place I grew up flying through but not for a final destination) is my new favorite American city and one that I will make a point to visit once a year from now on! As the youngest child in my family with brothers 9 and 11 years older than me, I had the privilege of learning how to ski at 5 years old and spent every Spring Break in Colorado and a few summers hiking in the mountains. However, I have NEVER actually spent time in the Mile High City of Denver exploring its culture, art, food, music, and entertainment. This city is rich in the amount of activities, restaurants, and breweries it has to offer. In June, I went with my best college friend Katie to see her husband Ben play the opening set in Molly Burch's show at Red Rocks Amphitheater for Tennis, a Denver-based band. Red Rocks has been at the top of my list ever since I found out a giant music venue existed in the middle of the mountains, so this was the perfect excuse to go!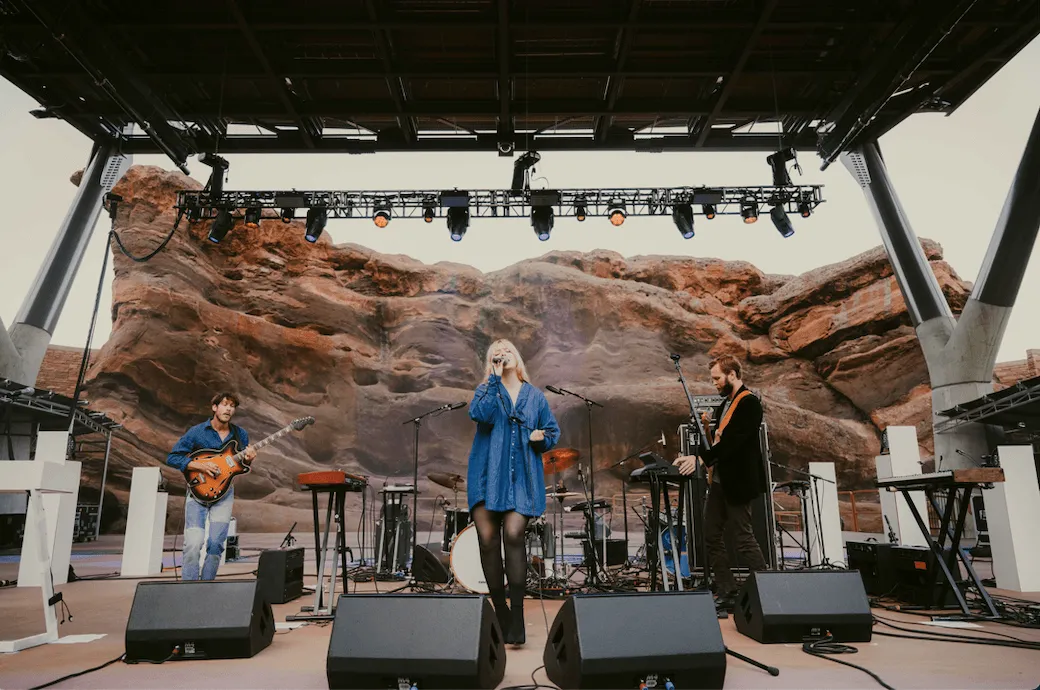 photo from 303 Magazine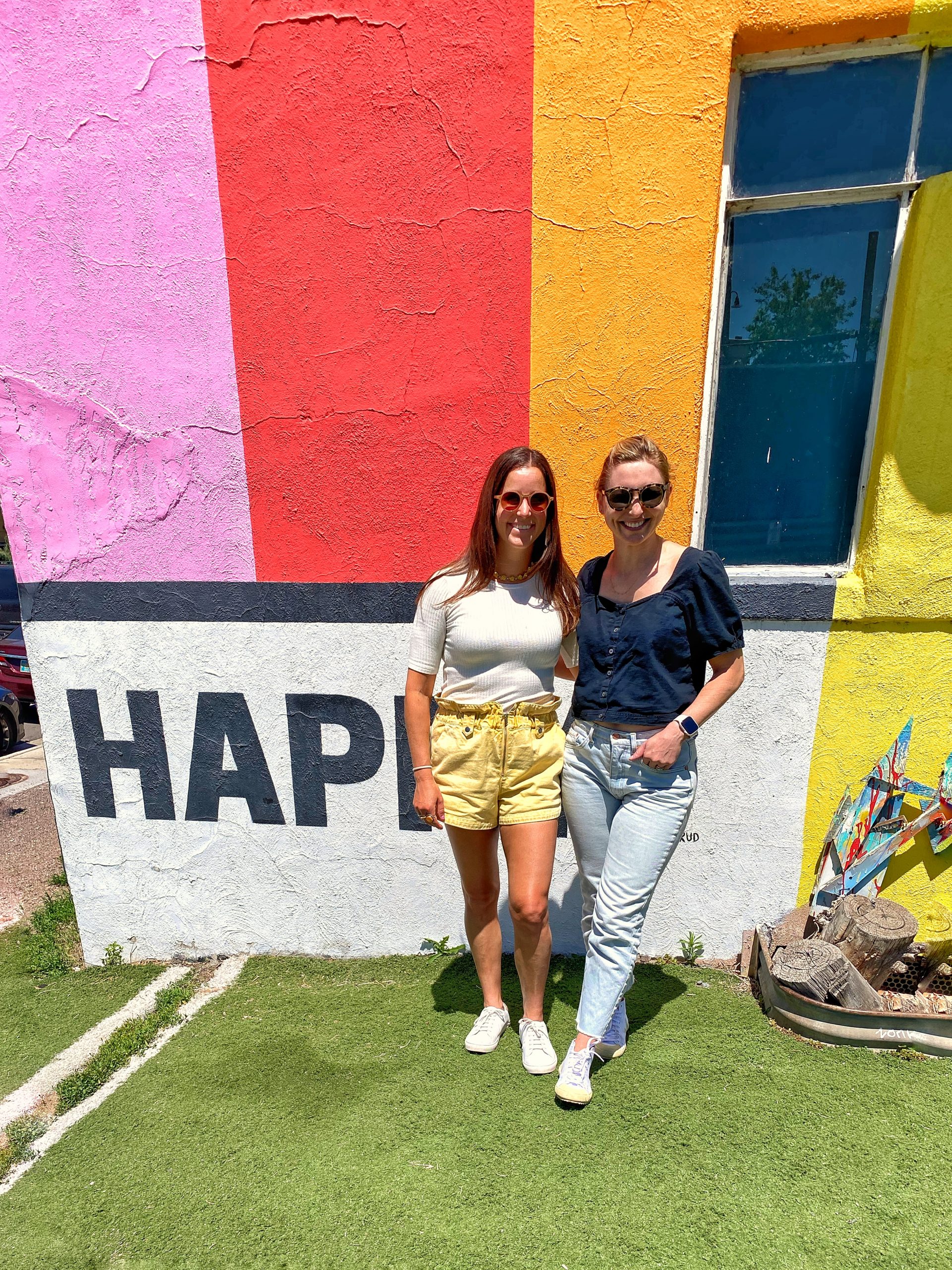 WHERE TO STAY: THE RAMBLE HOTEL
The flight from Austin is a measly two hours and on Southwest you can get a steal! We stayed at The Ramble Hotel in RiNo (River North Arts District) because literally every person told me to that I questioned if there were even any other hotels that existed in this city. It's the perfect location neslted in between lots of creative businesses, murals, and 15 craft breweries and cideries in one-mile radius. As soon as we walked in, I felt like a hip princess as the lobby, which is way cooler than any hotel lobby, houses Death & Co., a famous cocktail bar from New York City. Locals and visitors alike post up here and wait to get a seat which has gorgeous crystal chandeliers hanging from the ceilings, a sleek navy bar with gold oval mirrors lining the walls, and a creamy, green, plush check-in stand that blends right in with the style and plants in the area. I couldn't stop looking up and all around, checking out the other people inhabiting the place I would sleep for 3 nights, and my mouth turned straight into a smile seeing all the shiny décor.
Upon check-in, The Ramble offers you curated and extremely well designed hospitality cards with titles such a "Hidden" and "The Original" where they interview tastemakers in town about their favorite places to visit so you can carry with you in your pocket. It includes their pick for favorite late night eats, patio dining, a last meal in Denver, hidden bar, etc. This might sound little, but it really set me on the right foot and made me feel like I was being taken care of by someone who had similar interests to me. P.S. The "last meal" recommendation was Lao Wang Noodle House for the pork potsickers. We tried everything in our power to get here, but it was closed each time we had a chance to go… just didn't want to keep that secret from ya!
The rooms are compact, make a good use of space, and have cocktail books from Death & Co. as well as great bath products and a cute vanity space in the bathroom that makes it easy and fun to get dressed. The Ramble is independently owned which I like with just 50 rooms. I'm not one for eating at the hotel because I'm already sleeping there, but we dove into the menu at Death & Co. since our plane landed so late. I loved the pickles with cured vegetables, lavash, and raisin mostrada which I wanted to bottle and take home for all my future cheese plate dinner parties. The Grilled Asparagus with hazelnut crumble, egg, and mustard vinaigrette doesn't sound exciting, but it was so flavorful and the amount of different textures made it craveable. We also housed the D&C Burger which came with my favorite burger topping of all time— caramelized onions—mustard cheddar, pickles, hot sauce aioli, and everything seasoning. Don't miss their steak fries.
WHERE TO EAT & DRINK:
I always make a point to book meals in different neighborhoods when traveling so I can get a sense for the whole city's scene and vibe; however, we were truly in the best neighborhood for shopping and eating that we stayed close to our RiNo home! Walk a few blocks from The Ramble Hotel to Stowaway Kitchen for breakfast. The inside reminds me of a cute Australian café with lots of plants, simple décor, plenty of morning coffee and beverage options, and painted white brick walls. Get the Salted Verlasso Salmon with cabbage, jammy egg, avocado, steamed rice, for a Japanese style breakfast and don't miss the Hen O' The Wood medley with hazelnut + guajillo romesco sauce, greens, poached egg, and the chickpea panisse. Honestly, I'll order anything with a creative chickpea set-up these days. Skip the chocolate chip cookie and head to The Denver Central Market to get some chocolate bars at Temper Chocolates and Confections. They have your typical Ritual bars, and I had so much fun sifting through flavors and other brands from all over the world like Nirvana Belgian Chocolate and Moksha from the Rio Mayo Valley in Peru. If you need to pick-up something quick, they have a seafood counter called Tammen's, ice cream at High Point Creamery, morning pastries at Izzio Bakery, smoothies, pizza, a bar, etc. There is plenty of seating and a TV for sports.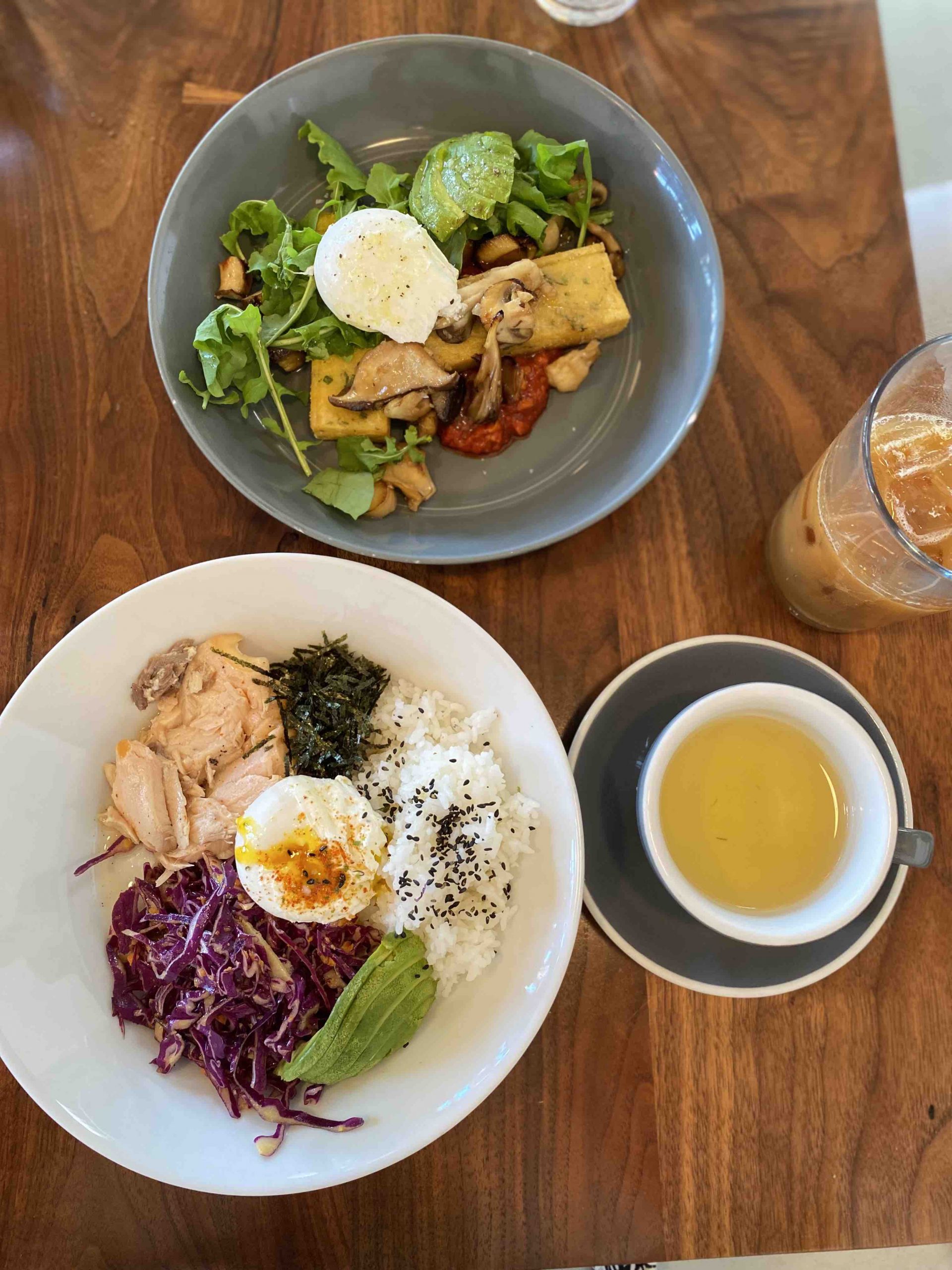 My favorite dining experience has to be Mister Oso.  This cute, jungle-y looking place is fun for frozen cocktails, shelter from the bright sun, and just all around a good time! It's so colorful, and the food is something I still think about especially because there are so many hits that could've been sleepers. I LOVED the Brussels Sprouts Salad with Avocado, Dried Cantaloupe –best secret weapon ingredient right there!—Cotija, Onion, Almonds, Quinoa, and Creamy Tomatillo Dressing that they spread across it perfectly evenly. Next, the Empanadas with BBQ Chicken, Cheese, Avocado, Poblano Crema, and Lime pierced my mouth with the ideal doughy texture. Not too crispy and just the right amount of flake. You know I love my breads and cookies doughy and flaky vs. hard and crunchy! You might be wondering why we went somewhere with so many tacos and dishes we could get in Texas, well we were LIVING and getting over ourselves and thank goodness we did because the Birria Taco is the best one I've ever had including the one's I tried in Austin! It's stuffed with short rib, melted cheese, onion, cilantro, caldo, salsa roja. The Mojo taco was coconut braised pork shoulder with mojo salsa, fried plantains (this made it!), pickled red onion and came with a side of tortillas so you could build that baby up yourself. Or in our case since we over ordered, eat it with a fork. Go for the Hibiscus Blackberry Agua Fresca plus some vodka to treat yourself and their Mezcal Margarita with a spicy rim!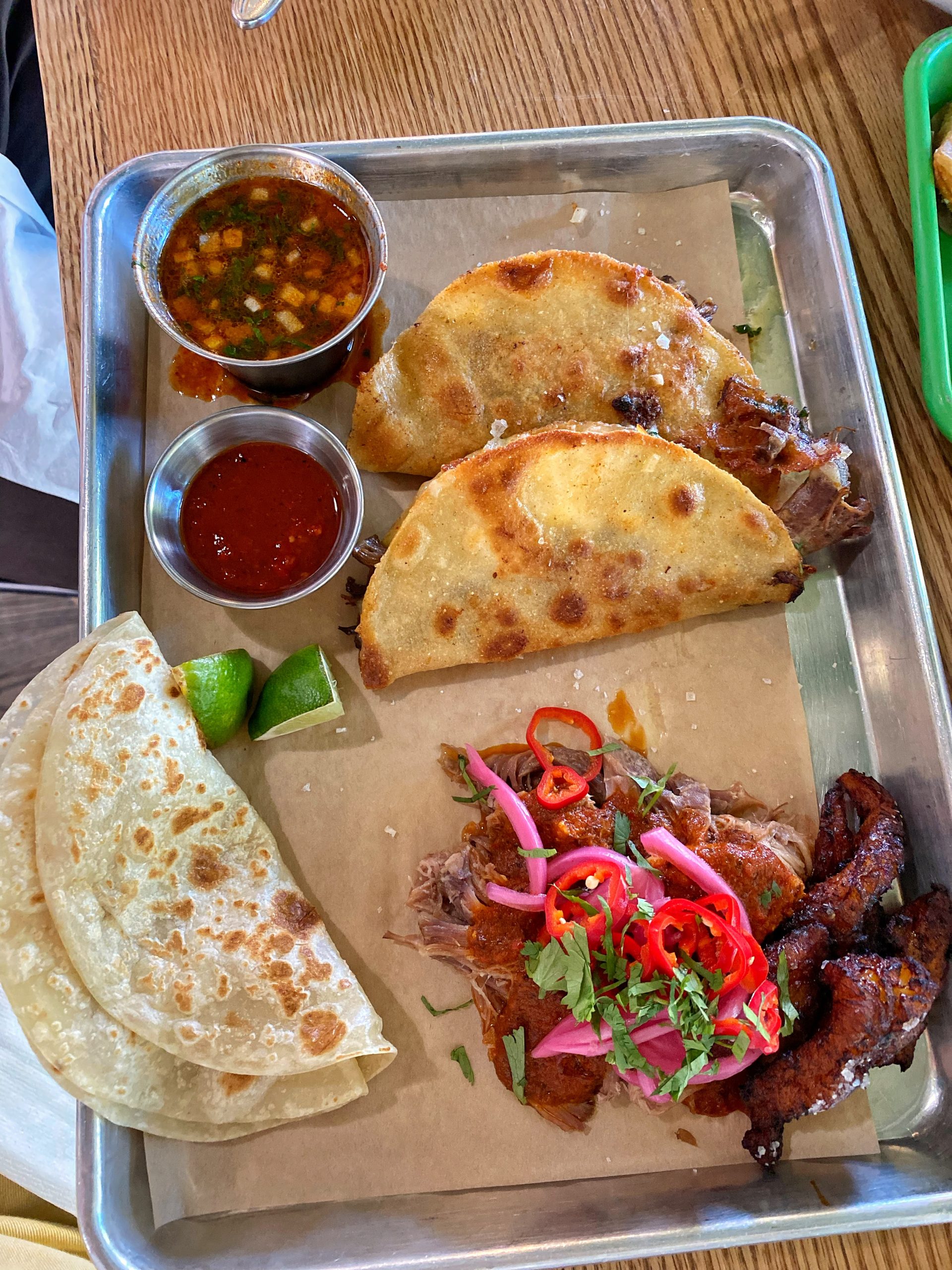 The best dinner we had was at Safta which is Chef Alon Shaya's Denver outpost. If you aren't familiar with him, he had a namesake restaurant in Nola called Shaya won several James Beard awards and was put on the map for his Israeli and Middle Eastern food. Let's be honest, it's the best pita and falafel, and the service is impeccable. Get the Cauliflower Hummus which comes with the fluffiest pillowy pitas that look like they were balloons and going to lift off our plates, Persian Rice with Cherries, Crispy Moroccan Stripped Bass, Half Harissa Chicken, and the Pomegrante Braised Lamb Shank if you really want to go over the edge. The space is open air and feels a bit warehousey but light.
WHERE TO SHOP:
My absolute favorite women's boutique was Recital. It was filled with plants, of course, tinctures, little books, oils that make you think they'll turn you perfect, underwear, gorgeous jewelry by Pamela Love, shiny stud earrings and bracelets, and sturdy denim yet hipstery overalls and other nice clothing.  We checked out the home design store that had clothes and random goods called Modern Nomad and basics at Judith and Joe.
Make sure if you are in town on a Friday to visit the Denver Bazaar with the most eclectic and SO Denver vendors. For example, we had a CBD infused peanut mix that was flavored "Salty & Sweet" in a manila brown bag for $10 a pop.  This market is every Friday from 4 p.m.- 9 p.m. and adjacent to the best hotel, you guessed it, The Ramble.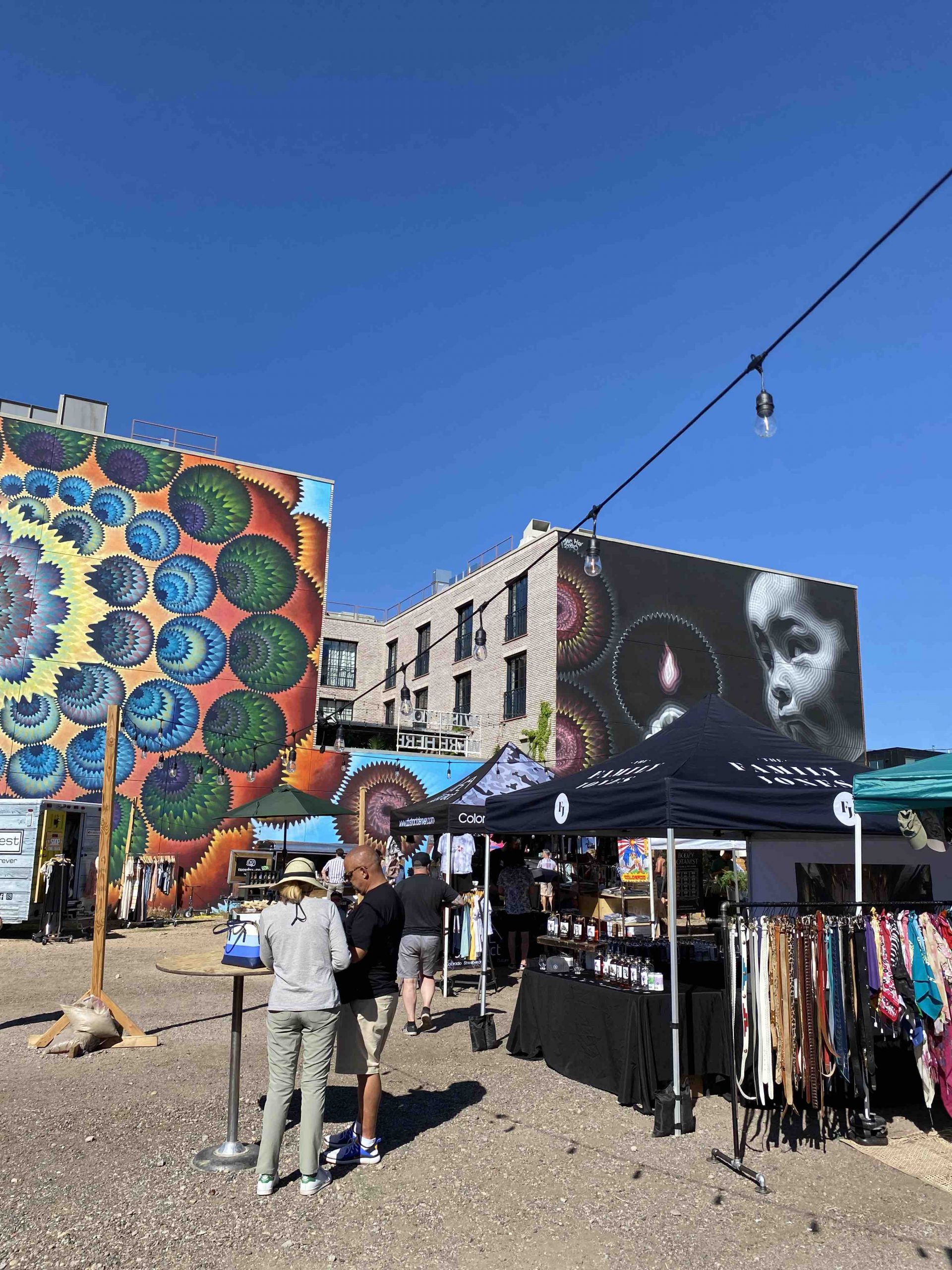 If you are looking for a cannabis store or dispensary, check out LivWell. It may look like a small shop, but it has over 1,500 products and lots of Willie Nelson references! There are sliding doors that let one group in at a time and has one "bud tender" working at a time (this might be because of covid). Well, the curious human that I am along with my best friend Katie who also asks plenty of questions allowed us to go "overtime" in there if you will. We gave our guy quite the afternoon chuckle. It almost felt like we were interviewing him and lets just say we found out the people in the waiting room were not pleased with us taking longer than five minutes to get some goods. He taught us that Sativa based products are for energy and going out with friends while Indica is best for pain and bed time. If you're looking to ease joint pain with CBD, it could take two months for it to be in your system to start activating properly so you have to try different things and be patient.
WHERE TO HIKE:
Hiking is my all time favorite activity. I love moving up a mountain while having insightful conversations with my crew and reflecting on myself without being distracted from work or my phone. It's like swimming for me as I'm huffing and puffing uphill and just trying to get to the top for my reward. We drove about 30-40 minutes to the exceptionally clean town of Boulder to hike Mount Sanitas which took a little over an hour to hike uphill and less to climb down. It was the perfect amount of time and took the life out of us in that hot sun. This is a dog friendly hike and as I sat at the top overlooking the city, a little pup kept circling me wanting to hang. His owner told me that it's very rare for the dog to keep playing with someone else for so long. We ended up getting into a deep conversation about the past year, healthcare, and being an entrepreneur. She had been wanting to take the leap since she got laid off but didn't have the courage. We chatted for a good 15 minutes before my friends made it up, and she thanked me for encouraging her to go out on her own and do the whole thing! I think her dog must have known we needed to become friends! I also think her dog had an ice cream flavor name and that's why we were meant to be 🙂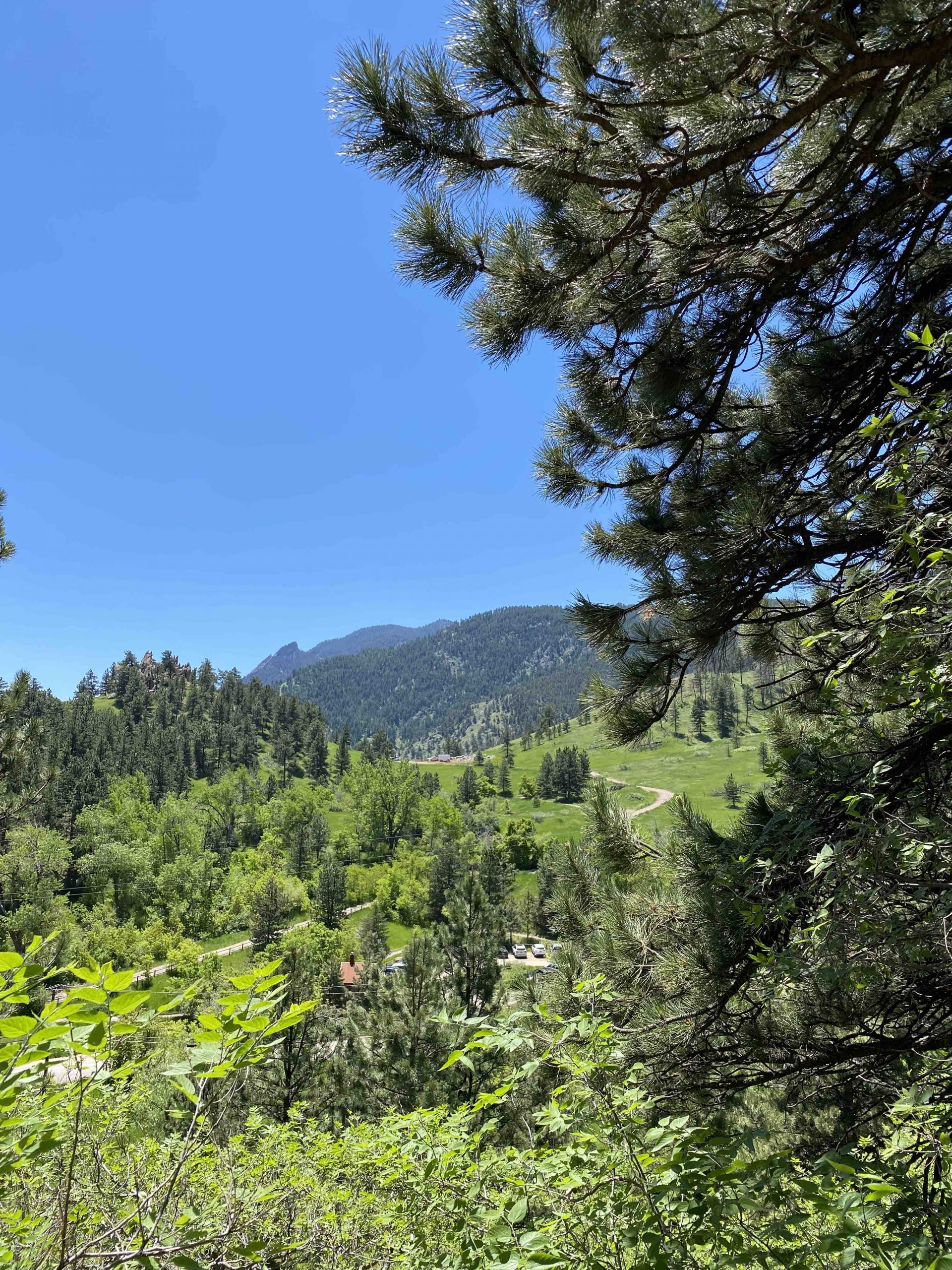 The real winner of the day, however, was the most insane frozen treat after in town. I got a Salty Cookies 'n Cream and Gooey Buttercake Caramel scoops (yes, it's better than Jeni's) from Gelato Boy, and I am confident that this is the best gelato I've ever had. I love their flavors and am definitely going to ship myself more of their other ones to try. I wish we had more gelato places in Austin! Then as if ice cream wasn't enough, we went and got a beer down the street and some burnt ends because we are Texans after all.
THE MAIN EVENT:
Red Rocks Amphitheater is probably the coolest venue to see a show as you are surrounded by 738 acres with incredible views and a naturally occurring acoustically perfect sound system where the Great Plains meet the Rocky Mountains. It opened in 1941, is 6,450 feet above sea level, and lets you feel alive while watching your favorite rock band and seeing the Denver lights afar. While it might not be as intimate as a little music club in Austin or New York City, being out in nature between the mountains and rocks is unlike any other experience. It's the feeling of the breeze, belting out the songs into the fresh air, and closing your eyes in the moment as darkness settles in that is unlike any other experience. While it's really fun to be front row at any concert, I leaped up the stairs to head to the back of the theater so I could see all the rocks, lights, and overhead views toward the end of the night. Both views are good!
As I mentioned, I went with one of my best friends to see her husband who performed with Austin based singer songwriter Molly Burch and debuted her second album which comes out July 23 called Romantic Images. What's even cooler is the band Tennis (a stellar looking couple) produced it, so it was so lovely seeing her open up for them. Her third record is fun, a little more wild and less chill than her past music. It's something you want to play anytime of day and even bop along or skip to at times. Download Took a Minute! I can't wait to see Molly Burch grow out of Austin. Check out their tour for the rest of the year.