Capri (pronounced KA-PRI) is one of the most luxurious and fashionable destinations, yet it's balanced by the simple way of life, beauty, and hospitality. The south of Italy and the Amalfi Coast are busiest during the summer months, especially in August when Rome is on holiday and everyone tries to beat the heat. We went in the middle of August, and to be honest, we didn't find it too hot or too crowded to enjoy (thank you 100 degree weather in Austin for prepping me!). However, it is hard to find last minute hotels, so make sure to do in advance if you can. Below I've included a list of the best hotels, restaurants, and activities in Capri.
WHERE TO STAY:
Excelsior Parco opened in 1906 and used to be a private residence (lucky Italians!). It's about a 5 minute drive from the Port or 15 min walk where you arrive by Ferry from Positano, Naples, or anywhere else among the Amalfi Coast. The hotel has unbelievable service, a decked out garden and a full-time driver named Chamin (they have the only electric car on the island) who treats you like a princess or one of his own kind. Pepé, another gracious employee, greets you for the hotel's complimentary breakfast every morning with a smile and makes fresh squeezed juices like mango, apricot, and carrot upon arrival. The boutique hotel has 11 rooms, each door with hand painted Italian scenes, and if you are really looking to splurge, stay in the recently renovated Deluxe Fersen. It offers two day beds on the balcony with views over the port, a jacuzzi, and gorgeous Italian, ceramic tiled floors. Also, ask about having an aperitif on the rooftop terrace at sunset. It's another magical piece of the stay as the sky transform to pinks and purples over the water.
If you want to stay in Capri center which is where all the fancy designer stores and hotels are located, check out Hotel Scalinatella which has a pool and is closer to the beach clubs. Make sure you swing by the lobby of Grand Hotel Quisisana to check out its elegance and front patio for people watching.
WHERE TO EAT:
APERITIF OR AFTER DINNER DRINK
After you see the gorgeous views from the center, you'll pass by 3-4 cafes right before you hit all the stores such as Gucci, Missoni, Louis Vuitton, Brunello Cucinelli, etc. They are all facing each other towards the center and packed from about 5 p.m. until after midnight. Grab a drink and the best trio of free snacks: peanuts, olives, and potato chips while you gaze at all the fabulous clothes walking by on the beautiful dark Italians. This is a late night city, and everything seems to be open until or after midnight.
DINNER
Paolino's. If you only have one dinner while in Capri, eat at Paolino's also known as the "Lemon Tree" restaurant by some of your friends. It's situated just a 5 minute walk from Excelsior Parco down a narrow road. As you venture into the romantic establishment, you'll see giant lemons the size of footballs hanging from the green trees that cover the top of the restaurant. If it's light enough, you'll even be able to see through to the sky. The menu incorporates these massive lemons into several of the dishes, and they even make their own limoncello which was by far the best I had while in the south of Italy. Just sweet enough and not too boozy. This laid back yet ornate dining room is what you are looking for on vacation, and you'll even spot several familiar faces. We sat next to Magic Johnson and Samuel L. Jackson on one side and right behind them was designer Valentino and Olivia Palermo.
To start, order the trio sampler of Grilled Mozzarella between Lemon Leaves, Zucchini Flower Tempura, which you'll see regularly around here, and the Eggplant Parmigiana. We went full on lemon-only with the pastas, obviously! My favorite was the Lemon Risotto with Baby Prawns and fresh Rucola. It's creamy, comforting, and the shrimp are so fresh! The Linguine with Lemon was lighter, but definitely needed some additional parmesan sprinkles to seal the deal. Oh, and who can forget the dessert buffet! At 18 euro a person, it's a commitment after those huge pasta dishes, but heck, you are in Capri. Think tiramisu, panna cotta, ricotta cheesecake, creme caramel, fresh berries, and a gelato bar which I recommend most out of the entire selection. The Straciatella is the best flavor and then Hazelnut.
GELATO
Buonocore is the most popular gelato in town. You'll smell the fresh waffle cones a mile away and see the line as well.
WHAT TO DO:
BOATING/BLUE GROTTO/FARAGLIONI
What if I told you that you could take a private boat ride with the owner of Paolino's? Vittorino, the most gentle and full of life Italian man who, believe it or not is in his 70's, took us on an adventure of a lifetime. This was my absolute favorite part of my 10 day trip to Italy. Experiencing the culture and seeing the waters, coral, blue grottos, famous limestone arches called Faraglioni (where you make a wish when the boat drives under), and Italian food and drinks through his eyes is something I'll hold dear to my heart and memory forever. With the little English and Italian we exchanged to each other, we celebrated the most important joys of life together which included his homemade wine with fresh peach slices, his homemade capers (NOT caper berries) the size of blueberries on salty crackers, limoncello, and true friendship. I did sneak a few bites of the capers by way of a spoon directly from the jar and he caught me. You could feel how proud he is of his country and the high degree of happiness he exudes by showing us the beauty. When you down a bottle of prosecco, wine, a whole jar of capers, you know you are living the good life. As Vittorino said: la bella vita! We chose the 2.5 hour tour versus 4 hour, and he was nice enough to give us some extra time.  I'd recommend doing 4 hours with a picnic which is at extra cost. Now this boat tour is only offered to his friends and family, so it's an insider tip and honor to have been included. Make sure you tell them I sent you when you email them for a reservation . Believe it or not, travel agents are still powerful today like my friend Robike at Seeitall2 Travel who discovered and arranged this experience. You can reach her at [email protected] or directly to Michela (Vittorino's daughter) [email protected] to make a reservation on the boat and restaurant.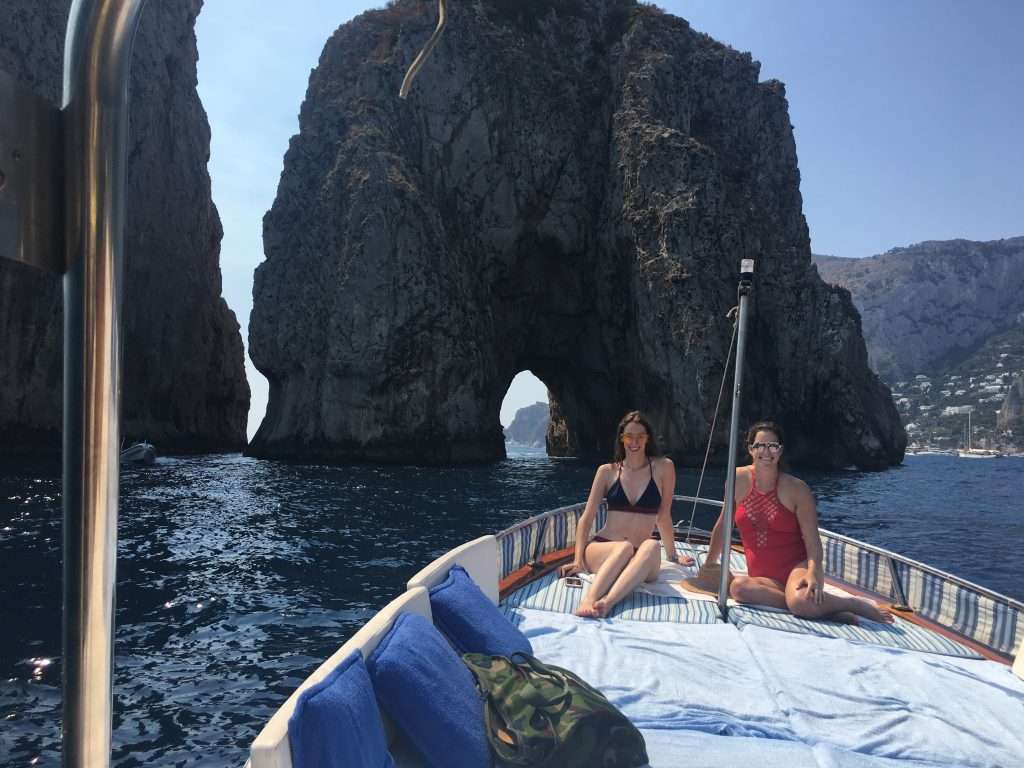 BEACH CLUBS
Beach clubs in Italy encompass the whole day. You have to make a lunch reservation at a few of them to get in which is only an extra perk and extra charge on your credit card, right? The two best beach clubs in Capri are similar and next to each other (you'll also pass by them in Vittorino's boat). We did La Fontelina which is 85 Euros for 2 chairs, 2, towels, an umbrella, a bottle of water, and access to the beach and staff all day. Lunch is delicate. You'll see people enjoying aperol sprtiz's, bottles of rosé, prosecco, large plates of pasta and seafood. We started with the salt cod crudo which was plentiful and fresh. I've actually never had salt cod raw, so it was nice to try something new. We also did the Antipasti Vegetable buffet for 18 euros each which included cold vegetables such as the country's famous chicory, eggplant, artichokes, marinated carrots, broccoli, red peppers, mozzarella stuffed eggplant, zucchini, and more. Sitting behind a New York family watching them guzzle down bottles of wine and watching honeymooners impromptu photo shoots was an added laugh. To get here from the center of Capri, it's about a 20 -25 min walk past all the fancy stores and down the stairs through the rocks. Good luck walking back up in the heat. Definitely do it though! It saves you time and about 25 euros instead of taking a boat.
If you have another day, check out Da Luigi ai Faraglioni Beach Club next door, too.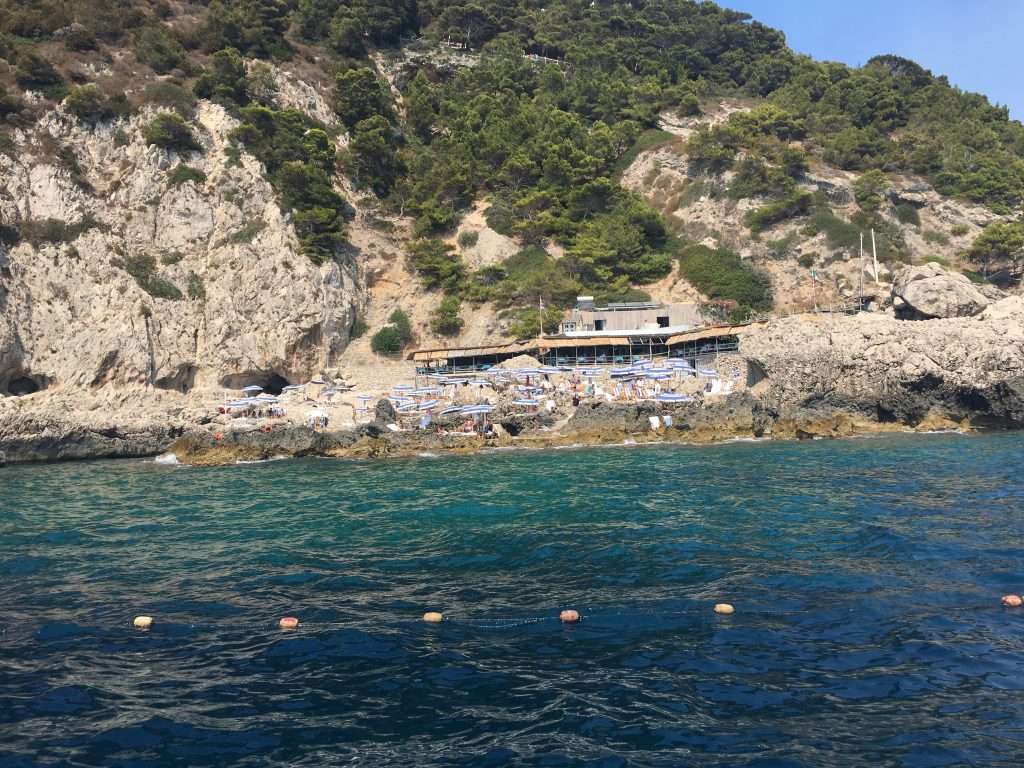 VISIT ANACAPRI
Anacapri is all about the chairlift view to heaven. I'd advise to stay in Capri if you can find an affordable hotel as the scene is much more enjoyable and happening. We took a 2 euro bus from the center of town to Anacapri which all in all was about a 15 minute process. They drop you off right at the base of the chairlift, and it's 11 euro to ride up to the top round trip. You'll see miraculous views, and feel pure freedom sitting in this singular seat that lets you see for miles. You can't tell where the sky ends and the water begins. Once you are at the top, you walk around, and it's pretty cool to be at cloud level and even above some.
When you get off the chairlift, walk straight and stop into all the stores all the way down until you get to the Villa de Michele. Stores include touristy things like magnets, limoncello, chocolate, olives, handmade scarves, and jewelry. However, make sure you stop into the store just to the right of the Capri Palace Hotel which has a purple sign saying L'iSola de Sapori on the wall so you can have yourself a custom made pair of leather shoes made. It's 75 euros which is cheaper than Capri, and this adorable man (below) is known for making shoes for Jackie O! If it's not too hot, you can hike back down to Capri which is about 700 steps down FYI.
ART
Liquid Art Systems is a gallery I first spotted in Positano, but they have several in Capri as well. You'll see a giant outdoor installation of a woman in a swim cap and intertube constructed by sculpture artist Carole Feureman who is from Connecticut. This is right in the center of town and you can also visit a couple of their galleries as you walk closer towards the beach.