So there's a hidden "sushi" spot behind a functioning butcher shop in NoHo that requires a "secret" phone number to call to reserve a table for dinner. Many people throw around Bohemian as being one of their favorite restaurants, and to be honest, I'm sure if you ask a few people in your circle of friends you'll know someone whose been, so have no fear. It's the exact opposite of what I expected. It's anything but pretentious and trendy and not overly expensive. It feels like a calm and modern living room filled with tables of two and an area with two tables meant to fit six each with couches for seating. There's a little atrium with greenery at the foot of one wall and it's really hard not to think that  little chipmunk is going to pop out of nowhere during dinner. It's not sushi and is Japanese inspired with several extra American treats like Mac 'n Cheese and Sliders. Start with the Tuna Poke which are large pieces of tuna with daikon sprout and chicory salad. The tuna grade is impeccable and the amount of sauce is just enough to give it the right amount of flavor. While the Sashimi Rice Bowl is only an option on the $58 tasting menu, if you're sweet enough to the staff you might be as lucky as we were to order a few portions. This was one of my favorite things on the menu. Fresh fat pieces of tuna and salmon atop a cup of rice with some sort of gelatin topping. I do need to mention that the plate ware and cups are absolutely gorgeous and artistic also enhancing the experience. The pace of the food is also noticeably patient. There is no rush, you get the next dish right when you start dreaming about it and the staff lets you enjoy your time there without any hiccups or constant check-ups.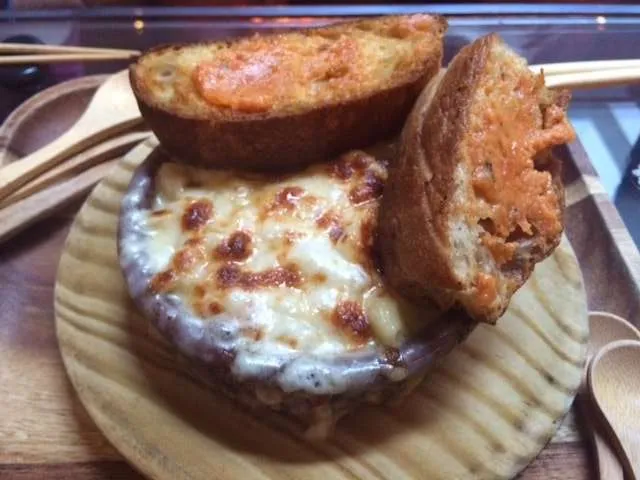 Believe it or not this heavy seafood menu does offer Mac 'n Cheese, Double Smoked Bacon and Sliders. So you start with the light fare and move on to the heavy bad boys. The mac 'n cheese is actually delivered as our first dish with little wooden circular spoons. The top layer was a sheet of bubbly cheese and underneath were legit and craveable creamy macaroni noodles. Don't snooze on the tomato butter toast either. Just stack it all on top. The Double Smoked Bacon sits atop creamed mashed potatoes with honey toast. No idea where this came from but everyone is obsessed with  bacon so apparently putting this thick of a cut on a plate will create fireworks at the table. The Teriyaki Washu-Beef Mini Burger, which is two per order, is probably the only burger I've loved that's not medium rare. It fits perfectly in your hand with a fluffy bun. The beef shows no sign of juices or redness but it is so tender and flavorful that your first thought of regret of it being cooked less disappears immediately after the first bite.
We tried the BBQ Lamb Chop special and the Duck Steak as well which were fine, but that Poke, Sashimi Bowl and Burger Sliders stole the show. I literally wish I could get that Poke or Sashimi bowl for a to-go snack on the reg, but if you can't even eat here without a reservation I think I'm S.O.L. Can someone please start a tuna poke stand somewhere? Bring a date here to show off yet have a nice meal, come with a group of friends to party on the couches, treat your parents if they are into food and a quiet space or for a relaxing Sunday night dinner that won't be forgotten.